Mummy's Gold: The Big Points
Welcome bonus worth up to $500
Regular pokie tournaments to play in
Great loyalty program for regular players
Website:
www.jackpotcitycasino.com
Mummy's Gold Casino is somewhat unique in that it represents an interesting juxtaposition of an ancient Egyptian theme and a modern online casino created in and ready for the 21st century. If that combination appeals to you, you can take the advice of the Bangles back in the 80s long before online casinos existed. "Walk Like an Egyptian" over to your computer, log onto www.mummysgold.com and experience for yourself the 250+ games this fine casino has to offer.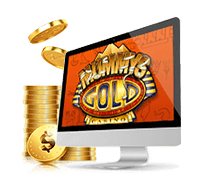 Interestingly, there is a land-based casino on the Las Vegas Strip called the Luxor which used to have the ancient Egyptian theme very evident throughout the property. Now, hower, other than the name and pyramid shape, there is little to distinguish it from any other casino. Mummy's Gold, on the other hand, which was launched in 2002, has not changed much. Every day players and would be players are enticed to enter its own representation of a pyramid and scoop up some of the gold treasure within. The creative pitch seems to work because the casino has become very popular, not just in Australia, but internationally.
Don't Be Misled by the Name
Mummy's Gold Australia has a lot more going for it, however, than just a virtual trip way back in time. Like the separately reviewed Spin Palace and Ruby Fortune Casinos, Mummy's Gold is a member of the highly regarded Palace Group. Also, like its sister casinos, Mummy's Gold has been operating online for over decade, so through the years it has become very experienced in knowing and meeting the changing needs of online casino players.
There is nothing dated about the software and games at this casino, even if the mummy-related titles of some of the pokies suggest otherwise. Mummy's Gold is powered entirely by software from Microgaming, a leader in its field. One of the reasons Microgaming has been able to stay at the forefront of the online casino software industry, despite intense competition in recent years from other providers, is its willingness to embrace the new capabilities of online and mobile technology. Its software is continually being updated and improved upon and new games are added to give today's more sophisticated players more of what they want. Mummy's Gold is one of the beneficiaries of Microgaming's expertise. While Mummy's Gold, with 250+ games, is considerably smaller than most Microgaming casinos, the quality of the games is on par with what you will find at any Microgaming casino. At the present time, no one from the U.S. or UK has access to Mummy's Gold, but Australians are welcome to explore its riches anytime.
Mummy's Gold offers pokies, table games and video poker – essentially everything that an online casino player could want.
Hits
Australian players are welcome!
Uses trusted, state-of-the-art Microgaming software
Also playable in flash version and on some mobile devices
eCogra certified
Member of the highly regarded Palace Group
250+ high payout games
Part of the Microgaming progressive jackpot network
Offers many varieties of blackjack and roulette
Choice of many secure banking methods
Generous Welcome Bonus (for pokies)
Excellent loyalty rewards program
24/7 Customer Support
Misses
Software could be quicker to download
Mobile platform might have been better designed
Mobile options not that clearly described
Welcome Bonus has quite a high playthrough
Pokies play is the focus of bonus rewards
Could have a fuller range of games
Software and Games
Software
Since its inception, Mummy's Gold Casino has been using a single provider, Microgaming to meet all of its software needs. This choice is to the casino's credit because it could not have found a more trustworthy and reliable provider. Microgaming has made it a priority to make sure its software is as up-to-date as possible. Microgaming specialises in developing innovative games with state-of-the-art advanced features and consistently superior graphics, sounds, and animations, resulting in consistently smooth gameplay and a highly entertaining online experience.
When Mummy's Gold Australia first appeared on the scene in 2002, downloading the software was the only option. However, like most competitive online casinos today, Mummy's Gold now offers a choice of three ways to access the games: downloading, an instant play flash version, and using your mobile device.
Downloading

This traditional method is the only way to access all of the Mummy's Gold games. However, make sure you allow yourself plenty of time because the process is slower than it normally takes to download an online casino's software. Figure on 7-15 minutes depending on your computer. You will then be able to play any game you want in the casino, but you will be limited to your own computer.

Instant play Flash version

This method offers two advantages. No downloading is necessary, and you will be able to access a wide choice of games instantly on any browser rather than being tied down to your own computer. The disadvantage is you won't have access to all of the games.

Mobile play

We can only presume that this casino's mobile platform is still in the initial stage of development because otherwise it makes no sense that it is not mentioned on

www.mummysgold.com at all and clearly not being promoted. It is disappointing not to be able to give a more encouraging report to the many people who frequently do not have access to a computer, but would love to be able to be able to use their phone or tablet to play some of their favourite games. Other Microgaming casinos have advanced mobile play capabilities. Their apps not only support play on 50 games or more, but work for virtually any mobile device currently on the market. Therefore, it is almost inconceivable that Mummy's Gold should be lagging far behind in this important area.

Mummy's Gold has reportedly released two mobile gambling apps, one which is compatible with some iOS devices (iPhones and iPads) and another which is compatible with some Android devices. Which games you will be able to access, whether you can make deposits and withdrawals with your mobile device, and what promotions, if any, are available to mobile players we cannot say. If you are able to visit the Mummy's Gold website from your smartphone or tablet, you should be directed to the Mummy's Gold mobile casino. However, if you are contemplating using your mobile device to play any Mummy's Gold games, we also recommend that you contact Customer Support and try to get a definitive answer to the above-mentioned questions and any others that occur to you.

Meanwhile, we will be checking periodically to see if there are any new developments in the Mummy's Gold mobile platform. As soon as we have more to report, we will update this review accordingly.
Games
Mummy's Gold, with about 250 games in all, fits the definition of a medium-size online casino. It is certainly not huge. In fact, some of the other Microgaming casinos we have reviewed, like Ruby Fortune, for example, have more than 500 games. On the other hand, some online casinos have only 100 games or less. For a frequent player, a casino that small could lose its appeal after a while. However, Mummy's Gold probably has enough of a selection to satisfy most players. In fact, a casino with a tremendous number of games might be intimidating to an inexperienced player. With a more manageable number, like that found at Mummy's Gold, less time is spent searching through the lobby, trying to figure out what to play. That means more time remaining to enjoy the actual playing, which is the reason for signing up with the casino in the first place.
We were impressed, and think you will be, too, with how well organized and easy to navigate this site is. The lobby not only lists all of the Mummy's Gold games, but organises them by category, making it much easier to find what you are looking for at a particular time. You can also click on any game you would like to know more about and read a brief description without any obligation to play it if you decide it isn't for you after all.
In addition, any game, with the exception of those that have a progressive jackpot, can be accessed for free, but only if you open a special "guest account" specifically for that purpose. Players with guest accounts receive 2,000 free credits which can be used to sample various games. Being able to use a guest account to test the waters on games you have never played is helpful, but unfortunately, this must be done prior to opening a real money account. You cannot have both a guest account and a real money account open simultaneously. A better option would be to be allowed to open a real money account, but still be able to play some games for free if you are not sure if you want to risk real money.
Pokies
More than 120 of the casino's games are pokies, so if you love these games, as most Aussie gamblers do, you should be very happy with the vast selection available to you at Mummy's Gold. Also, keep in mind that Micogaming frequently sends Mummy's Gold new releases. Many players really look forward to receiving these new games and being among the first to try them. Meanwhile, for your convenience, and to help you find your favourites quickly, simply visit the lobby where all of the pokies are not only listed, but organised into the following categories:
3-reel games
5-reel games
Feature games
Mega Spin games
Progressive jackpot games
If you're eager to play a game with an ancient Egyptian theme, you won't be disappointed. Although these games are not unique to Mummy's Gold, they are certainly a good fit. You can start by exploring the depths of Pharaoh's Tomb, and Tomb Raider, continue looking for riches in Isis and Mummy Munny, and save the potentially most lucrative part of your treasure hunt (a progressive jackpot) for last with Treasure Nile!
Otherwise, if you like simple classic games, the 3-reel pokies are a good choice. But if you prefer livelier games with a lot more action and interaction, we suggest instead what this casino calls its "feature games," which are themed video pokies. While the Egyptian theme is clearly apparent in some of these games (like Tomb Rider and Isis), so are many other themes such as other bygone civilisations, animals, monsters, witches, seasons and holidays. Or you can try your luck on one of four mega spin pokies. Since you're playing several machines simultaneously, the cost can mount quickly, but so can your wins if you are lucky. Last, but certainly not least, Mummy's Gold is home to 15 progressive jackpot pokies. Because Mummy's Gold is part of Microgaming's shared pool of progressive jackpots, players have the chance to win massive amounts of money. Some of these jackpots on pokies like Treasure Nile, Mega Moolah, Major Millions, King Cashalot, Lots a Loot and Tunzamunni truly represent their fun names. All it takes is one lucky spin on the right machine to turn a player, maybe you, into an instant multimillionaire!
Other Games
While pokies reign supreme at Mummy's Gold, they are far from the only game. Mummy's Gold is a full service casino, also offering many varieties of video poker, blackjack, and roulette, along with a wide choice of other well-known games like baccarat, craps, poker, Pai Gow, Casino War, Red Dog, keno, and scratch cards. Furthermore, Mummy's Gold caters to all types and levels of players. Beginners and veterans, small stakes players, and high rollers are all welcome.
Blackjack
Mummy's Gold Australia offers about 30 varieties of this popular game alone. Some of these different ways of playing might be familiar to you, but probably there are many more that are not, simply because most land-based casinos (and most online casinos) only offer a few types of blackjack games at best. However, at Mummy's Gold, your diverse options include Atlantic City, European, Vegas Strip, and Vegas Downtown blackjack, along with muli-hand, double exposure, and bonus blackjack, just to name a few of the possibilities. Some of these games are offered as Gold Series games, with advanced features that can make your playing experience closely resemble that of a real casino.
If you would like to know more about any of these games, simply click on that game where it is listed in the lobby for a short description. However, blackjack is a game where rules really matter. Therefore, we suggest that before you start playing any form of blackjack you are not already familiar with, to familiarise yourself with the rules and basic strategy. Without this information, you could unknowingly make a costly mistake.
Roulette
Roulette players also have multiple options, though nowhere near as many as in blackjack. Your choices include American, European, and French roulette, and Roulette Royale, which is a variation of French roulette with a progressive jackpot. Any of these games except American roulette is a good choice. American roulette is best avoided because the double zero significantly increases the edge to the house.
No Live Dealer Games
Surprisingly, Mummy's Gold Casino does not offer any live dealer games. This feature, which is now found in many online casinos, including other casinos powered by Microgaming, takes online blackjack, roulette, and baccarat to a whole new level. More than any other game you can play online, live dealer casino games closely resemble the experience of being in a real brick and mortar casino. Live dealer games may seem incongruent with a casino that has mummies as its theme, but think it would be an excellent addition to Mummy's Gold Casino anyway.


Security and Fair Gaming
There are many different factors that go into the determination about whether or not a particular online casino is worth joining and playing in for real money, but two of the most important are security and fair play. If you cannot ascertain whether a site is secure and its players are being treated fairly (a frequent problem with new online casinos), it is best avoided. Of course, if you have any evidence to the contrary or reason for doubt, the casino definitely should be avoided. Fortunately, with Mummy's Gold, all of the evidence stacks up to indicate that this is a casino that consistently meets its responsibilities to provide a safe and fair online playing environment.
The first sign that you have nothing to worry about is the casino's longevity. As we already pointed out, longevity is a very strong indicator of an online casino's trustworthiness. In addition, Mummy's Gold is owned underneath the well established Bayton, Ltd., licensed by the Malta Gaming Authority, and a member of the esteemed Palace Group of Casinos. But your strongest assurance that Mummy's Gold is one of the safest, most trusted operators on the web is its independent certification by eCogra.
The eCogra seal of approval is reserved for those select casinos that clearly meet this organisation's very strict guidelines for responsible conduct and fair gaming practices. You can look at the eCogra reports on the Mummy's Gold website, showing that the random number generators (RNGs) used by this site are fair and random. In addition, eCogra publishes an updated monthly report which notes the average casino payouts. This information can be located on the Mummy's Gold website as well as, eCogra's. The most recent report listed on their site, which was for March 2017, listed the average payout for all games combined of 94.08%.
Mummy's Gold Casino uses advanced encryption technology to safeguard each player's account. You are also welcome to review your gaming activity through PlayCheck and your financial transactions through CashCheck. Anyone who wants to set daily, weekly, or monthly deposit limits is free to do so.
Ongoing Promotions and Customer Support
Receive Up to AU$500 on a Welcome Bonus
Mummy's Gold, like the vast majority of reputable online casinos today, offers all new real money players signing up for the first time the extra incentive of an attractive Welcome Bonus. In order to receive the bonus, all you have to do is make a deposit of at least $20 up to $500 and the casino will match it dollar for dollar. Then you need to play the bonus through 50x.
We have compared this bonus to some of the others, and what we like about this one especially, aside from the generous amount, is that it is simple and straightforward. Some online casinos, for reasons known only to them, have considerably difficult welcome bonuses. For example, in addition to spreading the money out over several deposits, each part of the Mummy's Gold bonus will be a slightly varied match percentage. One needs a calculator not only to determine the playthrough but also the amount of the bonus. Then the fine print of the site's T&C go on and on for several pages. It is no wonder that many players wind up forfeiting the bonus because they don't understand the requirements. That is not likely to happen at Mummy's Gold Casino. Here are the basics on how its Welcome Bonus works.
First deposit: 100% match deposit of up to AU$500
Minimum deposit: $20
Playthrough requirement: 50x the bonus before making a withdrawal
Pokies (including progressives) and parlour games (i.e. keno and scratch cards) count towards 100% of the playthrough. All other games count towards 8% or less of the requirements.
The bonus must be claimed within 7 days of registering. But you have up to 2 months to clear it.
Due to the negligible contribution, if any, of games like blackjack or poker, this bonus should be treated as one for pokies only. But if those are your preferred choices anyway, it's hard to imagine what could be more fun than playing them to your heart's content.
Besides, as icing on the cake, you might even win a big progressive jackpot! However, be careful concerning the rather hefty wagering requirement of 50x the bonus. As tempting as the $500 maximum bonus may be, only take it if you can afford both the $500 deposit and $25,000 worth of action you will have to give the casino. Otherwise, deposit less and take a smaller bonus.
On the other hand, if you are a high roller, you might be disappointed that the bonus is capped at $500. Yes, some casinos give bigger bonuses, but more often than not, the playthrough requirements are enormous, too, especially if they are based on both the bonus and the player's deposit. The Mummy's Gold bonus is both generous and fair, and high stakes players needn't worry; simply keep up the same level of play, and the casino will continue to reward you accordingly. But getting back to the Welcome Bonus, here is the good news that all players want to hear. As soon as you complete the wagering requirements, the bonus is 100% withdrawable, along with your deposit and any bonus associated winnings, all of which, with a little luck, could add up to a big pile of Mummy's Gold!
Loyalty Rewards Program
Hopefully, you will like the casino enough to stick around and keep playing because the Welcome Bonus can be just the start of a long line of additional rewards. Every time you play for real money, you earn Club Points, but at different rates depending on the game. The system is based on the Euro. Every €10 wagered on pokies, parlour games, or American Roulette is worth 1 Club Point. Or, if you would rather play another game, you also earn points, but at a slower rate. (See the website for details.) Club Points are redeemable in units of 1,000. Every 1,000 points earned is exchangeable for €10 in free casino credits added to your bonus account. Club Points don't have to be redeemed immediately, but they do expire after 90 days.
Mummy's Gold also has a 6-tier loyalty club. The six loyalty tiers are: Blue , Silver, Gold, Platinum, Diamond, and Prive. Membership starts the day of your first deposit. Everyone starts out then at the Blue entry level with 500 free points, but with the opportunity to advance later based on the preceding month's play. Each higher level has a certain minimum number of monthly points that must be earned both to qualify for that level and to maintain it. Each higher level also brings with it bigger and better rewards in the form of Bonus Points, monthly bonuses, and more. All players receive tournament invitations, a monthly casino bonus, and a free copy of the monthly casino newsletter, which describes new promotions and opportunities to win extra cash and other special prizes. However, only players at the Silver level and higher receive Bonus Points along with their Club Points. Bonus Points, like Club Points, expire after 90 days.
Top tier (Diamond and Prive) players along with select Gold and Platinum players receive the following additional rewards:
Prive, Diamond, and Select Platinum and Gold level players

VIP Territorial Manager

Exclusive competitions and promotions

Exclusive gifts

Prive, Diamond, and Select Platinum level players

Invitations to VIP events and vacations

Prive and Diamond level players only

Faster withdrawals

Invitations to world class sporting events

Customised bonus offers

Prive level players only

Customised gifts for player and family
Customer Support
Customer Support is available 24/7 via live chat, phone, or email to assist you with any questions or concerns. The service is offered in English and 16 other languages.
Get Your Mummy's Gold Bonus up to AU $500!