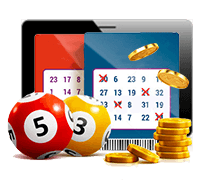 Despite a relatively high house edge, much higher than casino games like blackjack and roulette, keno players just seem to love the game. But why? Well, it's a simple game that's easy to play and can be enjoyed while you're taking a break from high-pressure casino action.
Plus, keno results in a win over 80% of the time although these wins are often very small and only enough to reimburse players for their original bet when gambling online.
How To Play Online Keno
Online gambling isn't always the simplest thing to get to grips with; there can be complex rules and so on that you need to understand before you can start playing for real money. That's definitely not the case with keno.
Just select your numbers on an online betting site, up to a maximum of 15, and hope that as many of them as possible come up in the draw. Most keno players will recommend picking around 10 numbers. Although the maximum prize will be lower, the break-even point feels more reachable.
The game is pure luck, just like online bingo and much other Australia online gambling activity, and there's nothing that players can do to influence the draw or pick numbers that are "overdue" to be drawn. That's why you might want to consider some alternatives to online keno. Online gambling, Australia and everywhere else in the world, has all sorts of options ripe for the taking.
Alternatives To Online Keno
If you're looking for something that doesn't require much attention or focus, slots are always a good bet.
Their house edge is similar to that of keno and you can set the game to autoplay to make the experience just as hands-free as online keno. Online gambling as a whole allows players greater control over the speed at which they play and when the action takes place.
For gambling online, video poker is another great alternative to keno. The house edge is much less punishing and, with correct play, some titles even favour the player over the house. Of course, the downsides are that some poker knowledge is required and following correct play requires a bit of practice.
Online Keno Vs Online Bingo
Although you'll find online keno in a lot of online casinos, we recommend that you give online bingo a try instead. The games appear, on the face of it, almost exactly the same so you might wonder why we think bingo is preferable.
While online keno is available at many online casinos (when it comes to online gambling Australia really is spoilt for choice), its presence is a bit of an afterthought. The graphics and sounds are usually pretty weak, and play often doesn't count towards the wagering requirements needed to unlock welcome bonuses at online gambling sites.
Sites focusing on online bingo, on the other hand, are solely devoted to the game of bingo. This means that the real money bonuses and promotions they offer are targeted towards bingo players. Because the games are so similar, this means that keno players will feel right at home as well.
Add progressive jackpot games, in which a percentage of an online betting site's take is added to an enormous prize that builds and builds until someone hits a full house, into the mix and there's even more to recommend playing online bingo over online keno.
Check out our online bingo page for more information on the different types of bingo, how to play and how to win or just click one of the links to an Australia online gambling site we recommend and start playing straight away.
Frequently Asked Questions
Is online keno legal?
It is legal for Australian residents to play online keno for real money stakes on international betting sites which offer their services to Australia. Although it is not permitted for an Australian based company to offer real money online keno games, there is nothing to stop Australian players enjoying the online version of the game in reputable online sites.
Where can I play?
Check out the sites listed above for information on how to play Keno from Australia for real cash money. Although not as widespread as Bingo, there are plenty of sites which do offer Keno so you will be able to play online Keno for money from Australia.
Is it popular in Australia?
Keno is less popular than the more widely recognized 'sister' game of Bingo, but this lottery style game is gaining fans in Australia. The rules are very simple and gameplay does not take long, meaning that there are no major barriers to get playing this classic game of chance.
How much is it possible to win?
You can play Keno for a minimal stake, so individual standard game winnings can be pretty low. However, progressive games of Keno increase the jackpot prize to huge amounts, and this is where players can win a lot of money if their luck is in.
Is there a tournament option?
There is no tournament option for this game, although by its very nature it is a competitive game whereby you are taking on your fellow players in a bid to reach your target first.
Are the games rigged?
Every site recommended on these pages is regulated and subject to regular independent testing to ensure that games are fair and pay out correctly. Online Keno games are powered by random number generators and any reputable site use games which are independently monitored by bodies such as eCOGRA to ensure that these RNGs are indeed fully randomized. You can rest assured that if we recommend an online betting site that you can play safely and securely online.