Popular Pages
Lottery
The basic premise of lottery online gambling is that you select certain numbers out of a pool of many numbers. If your numbers are drawn, then you win. Not much has changed since ancient times, except that instead of carvings on wood or pretty plastic balls, it is virtual and it is exciting. Oz Lotto is the current leader in online lotto based in Australia, but also services players from around the world.
Online Lotto
Oz Lotteries is currently the leader in online lotto in Australia. The process is relatively simple, and in many ways easier than online casino pokie action. Numbers are selected out of 45 balls numbered 1 through 45. When playing the standard game you will have a lotto card that has seven random numbers. There are a total of nine balls chosen and your first seven numbers represent a standard game. The eighth and ninth numbers represent subsequent game options.
Should all seven of your lotto numbers or subsequent numbers be drawn, that means you are one of the many lucky lotto winners. Your chance of winning the mega prize with Oz Lotto gambling online is 1 in 45,379,620. But there's no need to be discouraged - after all, in online gambling someone is going to win, and many already have.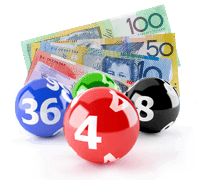 Lotto Results
Knowing whether or not you have won is probably the most important aspect of the game. So aside from watching on pins and needles, Oz Lotteries will notify you of your win by email. The official results are typically provided within 12 hours for individual players and up to 48 hours when playing in a pool. You can expect to see any of your winnings in your Oz lotteries account on the following day of the subsequent draw.
Good news for Aussies: there are no taxes when winning the lotto. Unlike traditional lotteries run by governments or municipalities, you will not receive a paper ticket per se. Rather, Oz Lotteries is the holder of your ticket. You are, however, able to view and print your ticket through an account login. This is important as it protects you from anyone else laying claims to your winnings.
Picking the Winning Lotto Numbers
Currently, players do not get to choose their own numbers. While there is an effort to make that possible when playing online lotto, for now the numbers are randomly generated for you. Many players are a bit bothered by this approach and are curious about the legitimacy of this selection process. No need to worry, because it is very much like the quick pick varieties found around the world. In many ways, RNGs (Random Number Generators) are the safest way to win with online lotto.
Lotto Variety
Australian PowerBall is also an online gambling lottery game that can be played anywhere in the world, and represents many of the different lotteries made available via Australia. You need only register online with the lottery service centre. Agents are ready to sell you a ticket. You will be able to see your scanned ticket within a day of your purchase.
Tatts is another online lotto organisation that offers a great number of opportunities to win big alongside fellow Aussies and people around the world. Get ready to play some of your favourite games such as Lotto, Lucky Lotteries, Autoplay, and the newest - Set For Life.
Frequently Asked Questions
How do online gambling lottery games work?
Online gambling lottery games are usually linked to actual real-life lotteries around the world, but with the important difference that you are not actually buying tickets in these lotteries. Instead you are effectively placing a bet on the outcome of a lottery draw, and getting paid out based on the result of these draws. In Australia you also have the option to buy tickets for local draws such as Australian Powerball, and these work exactly the same as tickets bought from the store.
Which Australian sites will have the games?
The two most famous Australian Lottery sites are Australian Powerball and Oz Lotto, but there are plenty of other local sites available too. Tatts is another online lotto organisation that offers a great number of opportunities to win big alongside fellow Aussies and people around the world
Are these games popular with Australian players?
Lottery games have existed in one form or another for thousands of years, with the opportunity to win life changing sums of money on a single draw a pretty powerful incentive. Likewise lottery games in Australia remain hugely popular, with thousands taking their chances every week.
How could I win by playing online?
When playing online you may be fortunate enough to win a share (or all) of one of the local Australian lotteries such as Powerball. Online lottery site also allow players to place bets on the outcome of lottery draws from around the world, from Spain to Singapore, where millions of dollars in winnings are also up for grabs.
Do these games feature on the casinos' mobile apps?
Generally you will be able to locate the mobile version of a lottery game, but it may require a certain amount of investigation. Make sure that you have found a casino or site offering mobile lottery games if you only plan to play on your phone or tablet.
Will I get a fair game?
National lottery games are extremely tightly regulated by the governments involved, meaning that there could be no suggestion of impropriety in those cases. Sites which offer payouts based on lottery results are also regulated by gambling authorities to ensure that payments are made quickly and in full and that the game results are completely fair.