Neteller
Pay by phone has arrived in Australia and online gambling fans need to know about this fantastic new way you can top your online casino account with real Aussie dollars - without using your bank account.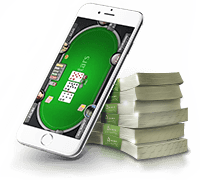 Seem too good to be true? Well, we can assure you it isn't. In fact it's already being used all over the UK, where pay by phone began, and now it's finally made its way down under. Hoorah!
Topping up your online gambling account by phone in Australia gets you:
Real cash bonuses when you register
Funds that hit your account instantly, without delay
A 100% risk free way to deposit real cash
Discover the best of online gambling when you join Jackpot City, our top casino pick for December.
Discover the Ease of Mobile Payments
Pay by phone is unlike any other type of deposit method out there today. Instead of the funds being withdrawn from your bank account or directly linked to your credit cards, the money you spend actually comes off your monthly bill or your available credit.
If you're a mobile user who has a monthly contract, every deposit you make in an online casino will be added to your monthly phone statement, for you to pay when the bill comes through. From then on it's simply a case of paying your phone bill in the way you usually do. No change there.
If you still pay for your phone by adding credit, the good news is you still qualify to make payments by phone. The difference for pay as you go users is the amount you deposit gets taken immediately off your available balance, so the funds come out in real time. Great for keeping tabs on your spend. This does mean that you have to have the amount you want to deposit on your phone as credit for the payment to go through. Anything less and you'll find that pay by phone deposit won't be accepted, so make sure you top up your phone frequently so you don't get caught short.
Learn How to Start Banking
All it takes is a few simple steps to add real cash to your online casino account when you pay by phone. It's one of the easiest ways for Aussies to make payments online - and one of the safest. Here's how it works in a nutshell:
1 - You'll need to select this as your preferred deposit method at the online casino you're playing at. - Because it's still catching on in Oz not every casino online is offering this deposit method yet. We expect it to catch on quick, so if your favourite casino isn't accepting just yet, it's only a matter or time before they will be.
2 - Decide how much you want to transfer to your online casino account. Bare in mind that all online casinos offer excellent bonus incentives to new players so make sure the amount you choose to deposit is enough to qualify for this. Or you could miss out on some free dollars to bet with.
3 - After you've confirmed the amount, you'll be transferred to a payment screen to complete the transaction fully. This is where you'll be prompted to enter your mobile phone number. This allows the charge to either be added to your monthly phone bill or taken from your available mobile account balance. Once this has happened the monies will show up in your gambling online account instantly, so you can get to betting with your real cash straight away.
Bringing Big Benefits to Aussies
Paying by phone balance or bill in Australia means never having to use your credit cards in an online casino to make a deposit. It keeps Australian players anonymous, and it keeps them safe. The best part? It doesn't cost you anything except the amount you want to wager.
Earn real money bonuses
Never risk your online security
Transfer funds to your casino account in an instant
Pay by credit or later by bill at your convenience
No need to link to your bank account or debit cards
Available for use on any smartphone or mobile device
Supported by major mobile networks throughout Australia
payforIT - The Way to Bank in Australia
Previously only available to mobile users in the UK, payforIT supports pay by phone transactions by acting as an intermediary between the online casinos and the mobile phone account holder.
It means that rather than share your mobile number with the casino itself, payforITs payment page allows you to type it in securely without sharing it with any third parties. Australians can make use of payforIT by simply altering the currency to dollars and following the same three step payment process Brits use to make their pay by phone transactions.
Paying by Mobile Number & the Future
It's still early days for pay by phone in Australia but with the concept being met with such success in the UK and more casinos online offering this payment method every day, the future looks very bright indeed.
If you're thinking about trying out pay by phone for yourself, we highly recommend you select an online gambling site from our list. Then you just need to make your first deposit and you're well on your way to raking in some real money winnings.
Frequently Asked Questions
How does pay by phone work?<
It works by deducting the deposit amount you want to make from your phone credit, or by adding it as an extra charge to your monthly phone bill.
Is it a recommended option for deposits?
Yes we definitely recommend it as a deposit method for Australian online gamblers. Our reviewers have tested pay by phone in all the top casinos offering it and we can vouch for its speed, ease, and security.
Does it work on both mobiles and landlines?
In Australia it only works on mobile phones at present, but in the UK there is also a landline provider allowing pay by phone payments. So given time we've no doubt Australians will be able to pay by landline too.
When are the payments taken?
When payments are taken depends entirely on how you pay for your phone charges. If you put credit on as you go, then the deposits you make in a casino online will be deducted from your balance in real time. If you pay monthly, the deposit amounts will be shown as additional charges when you receive your bill.
How long does the process take?
Paying by phone is quick and easy. It literally just takes one or two simple steps so you can have funds available in your casino account in minutes, if not sooner.
What fees are involved?
No fees are charged by mobile providers or payforIT, but it's worth being mindful that some online casinos may impose a handling fee, as with other deposit methods. This is why we advise checking the terms around deposits in the casino you play at.
How are the winnings paid?
Winnings that are in your online casino account can't be withdrawn using pay by phone. The service only allows payments, it doesn't have the facility to receive them in return. This means you'll have to use another withdrawal method if you want to take funds out of your account.
Is it safe?
Yes. It's one of the safest deposit methods available to online gamblers in Australia. That's why it's guaranteed to take off and become one of the most popular deposit methods, for online casino players in particular.