A game as old as they come, craps is a thrilling dice game that continues to entice casino punters since its first introduction to Australia. When gambling online for real AUD, the excitement is second to none. Not all craps are equal though. There are numerous variations and you will find many sites offering the game for free. To find out the top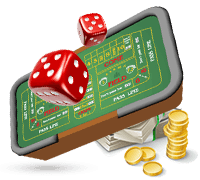 places to play take a look at our suggested sites. By visiting these real money casinos you can be assured of:
A wide range of excellent game and betting limits to match any wallet
Great software and gameplay for craps online gambling
A streamline AUD payment system and instant payouts
Legit security and certification
Top-money bonuses
Craps: An Quick Historical Overview
Craps' story started long before people began online gambling. Craps is believed to have its origins in the time of the Crusades, although we cannot be sure. What is more certain is that the game is a simplified version of the 12th Century English game 'Hazard' thought up by Sir William of Tyre, a Pommie knight. This game was then later developed into what we now recognise as craps by Bernard Xavier Philippe de Marigny de Mandeville in New Orleans. However flaws in his version of the game lead John H. Winn to devise the 'don't pass' and 'pass' betting option, which still remain in play to this day. Because of its simple nature, craps has the potential to be played anywhere and indeed the game became very popular among soldiers fighting in World War II. This form of the game is normally referred to a 'Street Craps'.
How Craps Is Played
Players place bets on the outcome of the roll or on a series of rolls of two dice. If playing Street Craps, wagers are made between the players, and if playing Casino Craps, wagers are made with the banker. The simplicity of the game is what makes it so appealing, but don't be fooled, it can take a while even for seasoned players to get their head around the multiple betting options.
Playing Craps Online
Before you begin your online gambling, start by taking a really good look at the craps table. Get to grips with the many different markings and places to put your bets. Maybe even take the time here to check out one of the many free play games to gain some confidence before committing real Aussie dollars. But don't hang out there too long, playing for real money is what it is all about. Once you have had some practice and have swatted up on the betting patterns, place your bets by putting your chips on the 'Don't Pass' or 'Pass' lines. For those who prefer a low risk strategy our suggestions here are to stick to the 'Pass' line bet. You – the player, aka the 'Shooter' - then need to roll the two dice in a 'Come-Out' roll. If you roll a total of seven or eleven, you roll again. Rolling a total of two (Snake Eyes), three or twelve at this point will end the game and the game starts over. Any other total from the two dice results in that number becoming known at the 'Point'. Now it is up to you – the Shooter - to roll the dice until you hit the designated Point number again. If this is achieved you win the bet. Beware though; roll a seven and the game in over.
Craps Variations for Aussies Players
Like we said, Craps can at times seem deceivingly simple. For those of you who want to play for money, but with less betting variations, a good place to start would be with the game: 'Simplified Craps'. This game has started to catch on, and can be found at a variety of the top Australian online casinos. As the name suggests this is a game well suited to craps novices. It works much the same as the standard game with two dice being rolled, except here if the total combines to make the sum of two, three, four, ten, eleven or twelve you win and if it combined to make the sum of five, six, seven, eight or nine you lose. Easy right!
Another variation to look out for when gambling online is 'High Point Craps'. As ever the two dice are rolled, except this time the high the total value achieved the better it is for you. Initial rolls of two and three are discarded. Rolls of eleven or twelve win and any other total above three becomes the 'Point', as in the standard game, and then you roll again to try and get a higher total.
What Makes A Good Online Australian Craps Casino?
Finding the right Aussie-friendly craps casino for you can be a bit of a minefield – but it really needn't be – follow our advice on what to look out for and check out our suggested craps casinos for an easy transition into this classic game.
First up all Aussie players need to ensure the casino's deposit options are suitable. The site should have a wide range of secure payment options, allowing you to easily and seamlessly start placing bets, safe in the knowledge your financial and personal details are being kept safe under lock and key. It should also guarantee fast payouts so you can access your winnings as soon as you have got lucky.
Next look for accreditation and logos that signify that the site has the validation of external online gambling organisations such as eCOGRA. These auditors verify that both the sites software as well as fair play procedures such as using a RNG (Random Number Generator) to ensure the rolling of the virtual dice is entirely at random. Customer service should also be considered. Should anything ever go wrong, a responsive and respectful team of advisors always should be contactable 24 hours a day.
For total confidence while playing online craps for real money choose a site off our list – only sites that take your safety and security as seriously as us will ever be featured. Stay safe, get excited and go try your luck at online gambling with craps and winning big Aussie dollars!
Frequently Asked Questions
Is online craps legal?
Online craps is perfectly legal to play from Australia, and is available on most of the larger online casinos, although smaller sites may not offer this game. Although Australian based companies cannot offer online craps games for real money, there is nothing to stop Aussie residents signing up with international websites to play.
Where can I play?
There are a number of online craps games available which are happy to accept Australian players, so keep an eye on these pages for our recommended online casinos. Remember that all the sites listed on this site are trustworthy and independently tested to ensure the fairness of their games, and that all of these sites welcome Australian players to their tables.
How is it different to regular craps?
Regular craps as played in a brick and mortar casino is a somewhat intimidating game for the newcomer, as there are lots of seemingly impenetrable rules and confusing table markings. Playing the online version allows you to develop an understanding of the game away from the high pressure situation of the real life tables, but the game itself remains the same.
Is it popular in Australia?
Craps is not one of the most popular casino games in Australia, although canny gamblers realize that this game offers some of the best value to players you will find anywhere in the online betting world. Take a few minutes to understand the rules and you may find yourself becoming a fan of this exciting and fast-paced dice game.
How much is it possible to win?
Your potential winnings are sky-high when playing craps, but it requires patience and a knowledge of the betting rules in order to succeed. Obviously each game will feature maximum stakes, but as craps allows players to have multiple bets running at the same time it is possible to amass some major winnings in a short period of time.
Is there a tournament option?
There is no tournament option available with craps, as this is a game where the players are effectively united against the house. That is why when you see a craps table at a real-life casino you will hear the players cheering and groaning in unison as the dice are thrown, as players win and lose together.
Should I use a strategy?
Many people are dissuaded from playing craps by the complex table and intimidating rules, but after a few minutes study you will gain an understanding of the game. Betting strategy is extremely important when playing craps, which is why it is a good idea to do some research online before risking real money at the craps table.
Are the games rigged?
Every site recommended on these pages is regulated and subject to regular independent testing to ensure that games are fair and pay out correctly. Online craps games are powered by random number generators and any reputable site use games which are independently monitored by bodies such as eCOGRA to ensure that these RNGs are indeed fully randomized. You can rest assured that if we recommend an online betting site that you can play safely and securely online.