Payment Options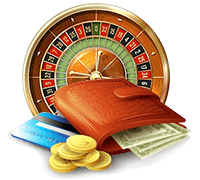 This page offers a brief overview of the most popular and most recommended payment methods for online gambling in Australia. Here you can find everthing from credit card and intant banking deposit guides through to ewallets and the best Bitcoin gambling sites. For more detailed information on each specific payment method, simply head over to the dedicated section. We've individually reviewed each form to reveal to you the pros and cons of using each one. We analyse:
The speed of payment and withdrawal
The security and software that keeps your money safe
The availability and usefulness of customer services
The hidden costs and fees
2023's Online Gambling Payment Methods
As shown in the examples above, there are plenty of available payment methods when online gambling in Australia. Always be sure to verify the associated fees and charges with your preferred method.
You must also understand the withdrawal processes and requirements when gambling online. You don't want to win real money only for it to be a hassle to withdraw. So, check out the payment section that you want to in order to find out more detailed information. It may just be easier than you think.
Frequently Asked Questions
What is important when selecting a payment method?
There are a number of important factors to bear in mind when choosing a payment method with which to fund your online betting site. When reviewing payment methods on these pages we look out for the following: speed of payment and withdrawal; security and software that keeps your money safe; availability and usefulness of customer services.
The hidden costs and fees
It is always important to check the banking section of any online betting site to ensure that you are fully aware of any fees and charges which may be imposed. While some sites will absorb the charges for deposits and/or withdrawals, others will expect the player to pay these fees so it is important to be aware of the difference in funding charges.
Which options are more safe & secure?
Every option you will find mentioned on these pages is fully secure and safe to use. Modern encryption technology means that online payment methods keep your details safe from prying eyes, and we don't recommend a payment method if there are any concerns over safety for customers.
What methods are faster?
As a general rule of thumb any transaction where a bank is involved will generally take a little more time to process – particularly for withdrawals – while e-wallets are usually the fastest for withdrawals in particular. It should be noted though that while an electronic wallet can process payouts quickly there is still the matter of getting your money from that payment method back to your hand or bank, which can add a few more days onto the process.
Should I choose an ewallet over debit or credit?
These days Australians are starting to overcome their innate distrust of online payment methods, with more and more people starting to recognize the benefits of e-wallets. The electronic sites mentioned here are just as secure as credit or debit cards, while options like paysafecard introduce anonymity and easy payment processing to the funding methods.
Do I need to own a credit card?
It is not necessary to own a credit card in order to fund your online betting sites, as there are plenty of alternatives available these days. Direct bank transfers using a method like POLi is a popular option in Australia, as are debit cards, electronic wallets and cash alternatives such as paysafecard.
How are gambling winnings generally paid?
The important factor to remember about getting your hands on your winnings is that they will be paid back to the payment method you deposited with whenever this is possible. Exceptions include players who use Australian Mastercard, which do not allow payouts from online gambling sites. Also the voucher system of paysafecard does not permit withdrawals, so in both of these cases you will probably be required to transfer back to your bank account.
How does my location affect the choice?
All the payment methods listed on these pages are fully accessible for Australian players, and are also available on most of the gambling sites listed on these pages. One important factor to note is that Australian Mastercard do not allow withdrawals from gambling sites, so while you can see Mastercard listed as a payout method in some online casinos, this will not be usable for Australian customers except as a deposit method.