If you're not in the mood for a drive, or can't find a location near you, online bingo/online gambling is an excellent alternative. You'll find a couple of different types of bingo on the web, although most players tend to stick with one of them.
Variations Of Online Bingo
The primary two formats of online bingo are as follows:
U.S. bingo (75 ball bingo)
Commonwealth bingo (also known as 90 ball bingo and housie)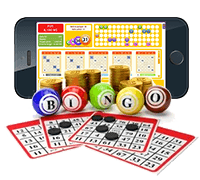 The variation of online bingo/online gambling Australia primarily plays is commonwealth bingo, also played in New Zealand and the UK, but obviously location isn't such a big factor here; in online casinos, players can choose between American, European and French roulette wherever they are in the world.
The same is true of online bingo but, in our experience, most Aussie players still tend to stick with 90 ball bingo when gamblng online. For that reason, we'll be focusing primarily on that variation in this article.
Another variation you can find on online betting sites is progressive bingo. This plays much the same as regular online bingo, but a small percentage of the site's take goes towards jackpots that build up until someone gets a full house.
How To Play Online Bingo (90 Ball)
First things first, you need to purchase a ticket containing a set of 15 numbers. Actually, many players purchase six tickets at once as it means they can mark off a number every time one is announced.
While players need to manually mark off their ticket when they have a number that's called out in land-based bingo halls in Australia, online gambling is different. In online bingo, players can relax and set their numbers to be marked off automatically. Well, it is 2023 after all!
That's pretty much all there is to it. Now it's time to look at what you need to get in order to win.
How To Win At Online Bingo
Want to win some real money gambling online playing bingo? Here's what you need to look out for:
One line – You've marked a full horizontal line of numbers
Two lines – You've marked two full horizontal lines of numbers
Four corners – You've marked the numbers in each corner of a single ticket
Full house – You've marked all 15 numbers on a single ticket
Advantages Of Online Bingo
Online gambling has gained popularity so quickly because of the advantages it offers, and bingo is no exception to that rule. An obvious example of this is that you can join a game of bingo whenever you fancy playing; you're never too late or early to play bingo for real money on an online betting site.
Another big selling point of online bingo is that it doesn't need to command all of your attention in the way that offline bingo does. This is true of Australia online gambling as a whole, with an autoplay option common in online pokies, and you'll find the same here: many sites allow you to set your ticket to mark itself automatically, so all you need to do is sit back and cross your fingers.
One other big advantage of online gambling providers is that they face stiff competition from other sites on the web, so most offer incentives to play with them. This usually comes in the form of real money bonuses that you can use to play bingo with.
We've done the hard work for you and scoped out some of the best places to play Australia online bingo. Online gambling straddles a grey area in Oz, but you can enjoy plenty of bingo action on the web so all you need to do is click one of the links, sign up, get your bonus and start playing.
Frequently Asked Questions
Where can I find Australia's top bingo games?
Check out the sites listed on these pages to find the best 90 and 75 ball Bingo games for Australian players. Just sign up with one of our recommended sites to try online bingo for real money from Australia.
Is online bingo legal?
There is no legal impediment to Australian residents playing online bingo on international casino or betting websites. While it is not currently legal for an Australian company to offer online bingo for real money, there is no restriction on international companies offering their services to Australian players.
Is bingo a popular game in Australia?
Bingo has grown a lot in popularity among Australian players in the last number of years, with a growing number of younger players indulging in a game or two online. This is one of the most sociable of all the online games, meaning that it is possible to develop online communities and friends over a shared enjoyment of the game, with younger women a growing demographic of online bingo players in Australia.
Will the payouts be quite high?
As a rule bingo stakes tend to be quite small as it is generally a fun game played for sociable reasons rather than as a way to make big bucks. That being said, there are progressive bingo games out there which offer massive top prizes to jackpot winners so it is possible to scoop some enormous cash wins.
Can I play the game in tournaments?
Most bingo games are in a 'tournament' style format in that you are trying to get a full house before the other players in a particular game. The amount of players involved varies according to the game and site in question, but games of bingo can certainly get pretty competitive when there are big money prizes on offer.
Are bingo games rigged?
Every site recommended on these pages is regulated and subject to regular independent testing to ensure that bingo games are fair and pay out correctly. Online casino games like bingo are powered by random number generators and any reputable site use games which are independently monitored by bodies such as eCOGRA to ensure that these RNGs are indeed fully randomized. You can rest assured that if we recommend an online betting site that you can play safely and securely online.