Paysafecard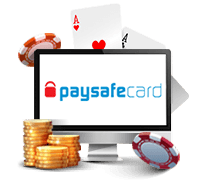 The number of Aussies that are taking to the laptop, or even mobiles, to do some online gambling is on the up, meaning the need for efficient online payment systems is also on the incline. There are many options available and the choice can be overwhelming, especially when all that you want to do is hit the pokies with a coldie and spend some time enjoying the slots and making some real AUD! Paysafecard has the following benefits when gambling online:
Universally recognised with instant access to funds
Anonymity that bypasses the credit card
Straightforward with transparent convenience
Keep reading to find out why using Paysafecard for online gambling is the habit to pick up in 2023 and where to find the best casinos that accept Paysafecard.
Paysafecard for Online Gambling
Based in Austria, Paysafecard has spread its wings and allows people all over the world to anonymously and safely participate in online gambling. Far from obscure, this is a universally recognised card and is welcome in many online casinos. Users are also able to gain access to their funds instantly and the Paysafecard never holds money back from users, meaning that when that fast top up is on the cards, it will be cleared before you know it!
While it may not be a method that you're as familiar with as you are with say, PayPal, Paysafecard has in fact been around since 2000, with an initial release aimed at those in Europe who were having issues when it came to putting money into their online gambling accounts. Think of it as your online gambling mate that is always there for your funding needs. After making its mark and running so successfully in Europe, the Paysafecard is now one of the most popular choices when it comes to fueling a casino account, and is often chosen by our very own home-grown Aussie gamblers.
However, this means that it can be difficult to decide on the best casino that accepts this method of payment. Our team of experts have analysed the best sites that accept AUD and Paysafecard and have listed the top online gambling sites here on this page. These sites offer great welcome bonuses, excellent security and cutting edge technology for better security.
Anonymous and Safe Spending With Real AUD
All users who use the Paysafecard are guaranteed anonymity – with no exceptions! Users can fund their online gambling with Paysafecard without giving out any personal information away and, as you don't have to surrender your details, this is a fantastic way for you to put your feelers out there and build up trust with a company, before you hand over personal information. It makes the risk of depositing money not a risk, allowing peace of mind. A positive mind will win positive bucks!
The anonymity factor of not having to enter personal details works in the favour of those who have been slapped with bad credit, or even simply choose not to have a credit card – the Paysafecard is a fantastic alternative and users can only ever spend what is loaded onto the account. No more overspending or dipping into money that isn't bookmarked for the recreation of gambling.
Making Online Payments
In order to use the card online, customers have to enter the 16-digit PIN that is allocated to the card that has been purchased. Paysafecard dealers, like your local corner shop, sell the cards with the PIN, and the value of the card can be chosen by the buyer.
Once the card has been purchased for use on the site, the online payment form that is used by the site will allow the user to enter the PIN and transfer the value of the card, into the account. Funds are available straight away, meaning no waiting around for it to clear – you can get straight to the table and place your bets, no drama.
Topping up for online gambling with Paysafecard is really straightforward in Australia. A simple trip to the supermarket is all that it takes to load on your money. While the limit for top ups is $100, an Android app is available in order for users to source the nearest store that can top the card up for you. Now, isn't that easy?
Getting Started…
Simply purchase your card with the amount that you want pre-loaded, top up your account for online gambling by Paysafecard and get going. There's no catch, it really is that simple. Don't forget that if you want the best recommendations on where to use your Paysafecard, simply have a scan of this page and take your pick of our favourite casinos for gambling online in 2023.
Frequently Asked Questions
What is Paysafecard?`
Paysafecard is a secure payment method that allows users to instantly fund their online gambling accounts without giving out any personal information. This payment method was introduced to Europe in 2000, and has grown from strength to strength since then, becoming a very popular payment method widely used to fund online gaming accounts and for a huge range of other online purchases.
How do I use it?
Simply go to your nearest paysafecard retailer and pick up a card in the value you need, up to a maximum of $100 AUD. Fund your online gaming account by entering the unique 16 digit code, and top up your card whenever you need to from any shop selling paysafecards. You can even download an Android app to locate the nearest paysafecard retailer to you.
Do they allow online gambling transactions?
Online gambling transactions are one of the most popular uses for paysafecard and this is absolutely permitted by paysafecard. Players like the anonymity along with the fast deposit speed and flexibility of the paysafecard, and it is accepted at a growing number of online casinos.
How quick will gambling payments be?
As soon as your card is topped up then transferring funds to your onilne gambling account takes only a matter of seconds. Using paysafecard is the online equivalent of using cash to fund your account, and is just as quick and easy as paying in cash.
How does Paysafecard compare with other methods?
Paysafecard offers a quick and simple payment option, without the need to register your personal details or provide documents to prove your identity which is required for many online payment methods. The drawback with the paysafecard option is that it is not possible to withdraw back to the card, so you will usually be asked to provide bank account details for withdrawals to be processed to your bank, which obviously adds quite a lot of time to the process.
Will I need to pay any fees?
There may be minimal fees charged for using paysafecard to fund your account depending on the online gambling site in question, so you will need to check the Banking section of the betting site for confirmation of that. Otherwise there is a 2% currency conversion fee if you are betting in a currency other than AUD.
Is it a safe to use?
Using paysafecard to fund your online gaming account is basically like using cash, so there are no personal bank details or information involved in the transaction. Your only security concern should be to keep your pin safe, and obviously not to leave your paysafecard lying around where somebody else can get their hands on it.