Live Dealer Roulette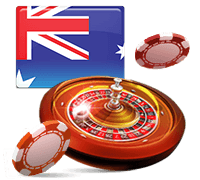 The sheer number of Aussie players jumping on the Live Dealer bandwagon would suggest we have all been missing a little human interaction in online Roulette and online gambling. Live dealer roulette means real life croupiers beamed straight from real casinos to your front room, and if that sounds appealing, we reckon the game could be for you. However, with so many online casinos offering the game in 2023 it can be a bit of a nightmare to find the right one. Take a look at our list of the best sites available today to help you find your ideal casino. Plus all of our recommended Live Dealer Roulette sites offer:
A thrilling playing experience with real wheels, winning real AUD and all from the comfort of your home
Experienced professional croupiers
Fast, reliable real-time video streaming
Stakes to match any Aussie wallet
Sophisticated software and trusted security
A wide range of AUD deposit options Easy for seamless play
Why Play Live Dealer Roulette Online
Live Dealer Roulette transports all the thrill of a brick and mortar casino experience and delivers it to your home in the form of a real money experience when gambling online. And let's be honest, Australia is a big place, the likelihood that your nearest casino is just around the corner is pretty low. Playing at home brings many other benefits too – no travels costs, no waiting for your favourite game to become available in crowded casinos and no need to even get dressed if you don't want too!
Obviously the main draw to this game is the croupier. It great seeing a real person lead the game. The croupiers we have come into contact with so far have all been charming, with the added benefits of being real roulette experts. Not only can you see them in action, but you have the opportunity to chat to them too. Thanks to the online chat box, players can ask for advice, check the odds or simply have a friendly chit chat.
There are other reasons why having a living human being in charge of the game is so sought after. Ever worried about being scammed? Or been wary of Random Number Generators? When playing Live Dealer Roulette all of this goes out the window; no RNGs are required here. Instead, trained croupiers spin the wheel and ensure a fair game.
How to Start Playing
At any live dealer roulette online gambling site, a decent Internet connection and a personal computer are a must. Then once you have chosen your casino and Live Dealer Roulette game, get things started by linking up to the live-stream video link. You will see your croupier standing at the table ready to get the ball spinning in real time as well as your traditional online Roulette betting board. The game takes place exactly the same as you would play a standard game of Roulette online, except this time instead of pressing the Spin button to start the proceedings, the croupier will call "No more bets" before spinning the ball and announcing the winning bets.
Live Dealer Roulette Betting Limits
While bets can start at just a few bucks (at many online Aussie casinos players can bet from as little as $1 a spin) it's good to know that the minimum bet may be higher than you're used to if you regularly play standard online Roulette. However bear in mind it is still a whole lot cheaper than playing in Melbourne or Sydney's big casinos where you'd be forced to place $10 or $20 a spin. In online gambling, live dealers have the habit of attracting more high rollers than your average game of roulette, so you'll often be faced with higher maximums. These can range from $500 to $1000 – now that's quite a lot of money to be putting on a spin!
How to Find Top Live Dealer Roulette
As with all online gambling casinos, there are good ones and bad ones. The same can be said about Live Dealer Roulette casinos. Some are great while others are a total waste of time, and at the very worst - unsafe. Always make sure the casino offers professional dealers positioned in a smart casino environment, secure and fast software, various AUD banking options for easy deposits and fast cash outs and finally, 24/7 reliable customer service and publication of their payout percentages. For all of the above check out our recommended Live Dealer Roulette games of 2023 carefully chosen for their premium experience for gambling online.
Frequently Asked Questions
How does live dealer roulette work?
Live dealer roulette has surged in popularity in recent years as improved internet access and bandwidth has made this form of the game more accessible to online players. You can play in the same way as with an RNG game, but in this version you will see the croupier spinning the wheel and taking bets from a remote location, streamed to our computer or mobile device in HD quality video.
Which Australian casinos will offer the game?
While the legal situation prevents Australian based online casinos from accepting Aussie residents as members, that does not mean that it is not possible to play live dealer roulette from this country. There are many trustworthy international online casinos which specifically target Australian clients and offer their services here.
How does it compare with standard roulette?
Standard online roulette is played in a virtual environment which is powered by random number generators, and so obviously you miss out on the social and human element which is present in the live dealer version of the game. However, the live dealer version is considerably slower than the animated game as you must wait for a number of players to act.
Is there a particular variation I will be playing?
Most online casinos will offer live dealer European roulette as the main version available, although some will also offer the French or American variations. The most noticeable difference between the games is that American roulette features an extra '00' slot on the wheel, making it less statistically advantageous for players.
Is there any roulette strategy I can use?
Strategy in roulette is all based around the bets you make, as once the wheel spins the result is in the lap of the roulette gods. Some casino pros recommend using a Martingale style betting approach, where you bet on red/black or odd/even and double losing bets, although this approach should be treated with caution and requires a healthy betting balance.
What is done to make the games fair?
Every site recommended on these pages is regulated and subject to regular independent testing to ensure that games are fair and pay out correctly. Online live dealer casinos are independently monitored by bodies such as eCOGRA to ensure that these games pay out fairly and correctly. You can rest assured that if we recommend an online betting site that you can play safely and securely online.