There are a wide variety of scratchies available to Aussies. And much like pokies, there is a little something for everyone. They all provide opportunities to win at online gambling, and some even win in a really big way. It is like opening a birthday present every day of the week.
Scratchies' Source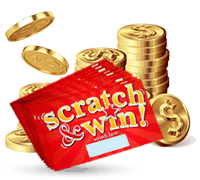 As recently as February of 2023, the most popular scratchies groups are the Tatts Group operating under the title Tatt's brand, Intralot, Ozlotteries, and Netlotto. There was a time when the government pretty much controlled all the sales. But increasingly, organisations such as Tatts have gained predominance in the sales of scratchies and other lotteries. Lotterywest is currently the only state owned and operated lottery in Australia.
There are currently many online casinos that are offering scratchies. It is always important to select highly reputable casinos online. Our team of expert scratchies enthusiasts have identified some really safe, secure, and fun sites for your enjoyment.
How Scratchies Work
In many ways, you will not find an easier system of gambling online than scratch cards. In other countries, it is not at all uncommon to find lotto stands in grocery stores, petrol stations, and pubs that sell scratch off lotteries. Typically, it is a dollar at a time investment, with pretty good odds of winning anything from more free tickets to larger sum payouts.
The scratchies in Australia are much like a normal scratch card or instant win games. Players begin by buying their cards and then scratching off the coating that keeps the mystery hidden. Therein lies the prize beneath the silver or gold scratch surface. Simply choose a reputable site, register, and try playing for free at first. Then step up to purchasing your online scratch games, and starting your virtual scratch.
Odds of Winning on Scratchies
Scratchies odds are some of the best when it comes to online gambling. There is a reason why they are so popular among Aussies, not to mention the world. The truth is the odds are what are known as fixed odds. That is not to be confused with scratchies being rigged. The truth is, all of the cards are printed before being uploaded and distributed online, so there are a set number of winning cards online. That means that there are a set number of winners.
That is in strong contrast to other random number generators that can continually mix up the odds of winning. So, whether you are new to online gaming, or you are looking for a new winning source, online scratchies are fun and, yes, your odds of winning are good. Players have a good chance of winning one third of the time.
Fair Game of Chance
When it comes to online gambling, in many ways scratchies gambling online is one of the fairest approaches to winning online. Many gamblers are suspicious when playing online because they believe that games can be rigged. But due to the fixed odds system, there is a higher level of accountability. To answer the question of whether scratchies rigged, the answer is no. All of the cards loaded or printed are pre-set, therefore the cards you select are random and the odds of winning are very good. Most reputable online scratchies sources also make available winning information.
Frequently Asked Questions
How do scratchies work online?
Everyone is familiar with the scratch cards that can be picked up at the corner store, and the online version works along the same lines. Simply 'scratch' off the surface of the virtual cards in the hope of making winning combinations of symbols. One advantage of the online version over physical cards is that the return to player on virtual scratchies is better than you will find at your local store.
Will every Australian casino site offer the games?
Scratchies are not available at every Australian casino site, so check out the list of games on offer to make sure you will be able to find scratchies at your preferred casino. Remember that we have searched the internet to find the best casino options for Australian players, so you can rely on our recommendations in terms of quality, choice of gaming options and player security.
Is there a strategy to playing them online?
As we all know, scratchies are a game of luck rather than skill, and this extends to the online version as well. It is simply a matter of choosing the card type that you favor – whether because of the theme, the animations or the prizes on offer – and hoping for the best!
How much do the jackpots go up to?
Online scratch cards offer jackpots running into millions of Australian dollars, although bear in mind that there will be a higher purchase prize for these massive jackpot scratchies. In general you can win anything from a few dollars up to thousands of AUD with a regular scratchie.
Does anyone ensure fair gaming at online gambling sites?
Every site recommended on these pages is regulated and subject to regular independent testing to ensure that scratchis are fair and pay out correctly. Online casino games are powered by random number generators and any reputable site use games which are independently monitored by bodies such as eCOGRA to ensure that these RNGs are indeed fully randomized. You can rest assured that if we recommend an online betting site that you can play safely and securely online.
Can I play these games on my tablet or smartphone?
Scratchies are available on tablets and smartphones, as are all online casino games. Just check out your chosen casino to ensure that scratchies are available on mobiles if this is how you plan to exclusively access the site.