Neteller
From its inception, Neteller has been widely accepted as a secure payment method for online casinos. In fact, it has repeatedly been hailed as one of the best gaming e-wallets in the world. You won't have any problems finding an online casino with the Neteller logo.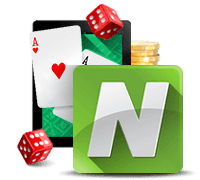 However, not all online gambling sites are created equal. Some are great and others aren't. We have tested and researched hundreds of online gambling sites to bring you the absolute best Neteller online casinos of 2023. Our recommended Neteller online gambling sites:
Are fully secured
Have large welcome bonuses
Offer 24/7 speedy customer support
Offer thousands of online games to play
Compare our 2023 Neteller casino sites for the best chances to win real money!
Opening a Neteller Account in 2023
Signing up for a Neteller account is a very easy process. There is really no hassle to it. You will be required to register with an email address. Then, you will choose a location and the currency you prefer, such as the Australian dollar.
Neteller will then send an email to you requesting validation of your email address. After which, you will create a unique password. That is all. It's super easy. To load funds to your new Neteller account, choose the option that suits you best. Be sure to compare the fees for each method. Then you simply deposit funds into an Australian online gambling account and will be on your way to win real money!
After you have opened an account, you can load funds to this virtual bank account in many different ways. Transfers are very quick; you will notice your new balance within minutes. Then, it's just a simple click of a button to deposit these funds into your online gambling account. Here are some ways you can add funds to your Neteller account: MasterCard credit card or debit card, Visa credit card or debit card; bank transfer or POLi.
Benefits of Neteller
There are several benefits to using Neteller. Besides being super easy to sign up and use, Neteller is a free service. When doing some online gambling, Neteller keeps your sensitive financial information completely separate. You do not need to register a credit card, debit card or a bank account. This is an added layer of financial security that other payment processors do not give.
Neteller is also one of the few payment processors that allow you to deposit and withdraw funds into and from your Australia online gambling account. Transactions are very timely. You certainly won't be waiting very long for your funds. And if these benefits aren't enough, Neteller provides you with the option for a Neteller debit card for 24/7 access to your real money casino winnings.
Withdrawing Your Winnings
Neteller presents its account holders with various withdrawal options. You will be able to withdraw funds to your Australia bank account, have a check sent, or use the Neteller branded debit card. Each of these options has a different transaction charge and processing time. Be sure to choose that the one that makes the most sense for you.
In most cases, there is a fee for loading funds into your account, but this fee is determined by the method you use. Currently, POLi is the only payment method that has no charge for adding funds into a Neteller account. There is also a charge when you withdraw your winnings from an account for online gambling to Neteller. However, all deposits from a Neteller account to an online casino account are free of charge.
Safety for Australian Online Casino Players
For online gambling, Neteller is a secure payment processor for Australia's online players. It suits the complexities of the Australia gambling online industry by making the payment process very easy. One of the method's biggest advantages is its separation from any of your financial information. With Neteller, you do not need to register a credit card, debit card or other banking details.
The company takes online security very seriously. They use the most advanced anti-fraud tools and online security systems to keep your funds safe. With Neteller, Australians never have to worry about their funds.
Within a few years, Neteller has soared to one of Australian players most preferred casino payment solutions. It has been proven to be a very viable alternative to credit cards because it is safe, secure and quick. Neteller also allows players to store and withdraw funds from their account, just like a real bank account but without the hassle.
Frequently Asked Questions
Who are Neteller?
Neteller is one of the world's largest electronic wallet providers. They offer a quick and cheap way to transfer money via the internet, and are widely accepted for both deposits and withdrawals to and from online gambling companies. Neteller offer instant deposits and withdrawals from most gambling sites in from 6 to 24 hours.
How do I get started with gambling payments?
Simply visit neteller and enter your details to open a Netelller account. The process only takes a couple of minutes, and then you will have an active account in your name. You will then need to provide scanned proof of identity and link a bank account to your Neteller account to be able to fully access the service. After that you are ready to put money into your Neteller account and fund your gaming account.
Do Neteller allow online casino use?
There is no problem funding your online gambling account with your Neteller account. Likewise you will be able to withdraw funds from your online casino or betting site to your Australian Neteller account quickly and cheaply.
How safe will me money be?
Neteller has become one of the most popular money transfer systems in the world due to its reputation for fast, cheap and safe transfers of funds. Because Neteller account holders are required to fully verify their accounts it means that Neteller have enhanced security against fraudulent transactions, and this widely respected company is an extremely secure funding method.
How fast are the transfers?
Neteller offers just about the fastest fund transfer speed to and from online gambling sites that you can find. Deposits are instant and withdrawals take less than 24 hours to complete, making them the best option if speed of transfers is a priority for you.
How do they compare with the alternatives?
Neteller offer a fast and reliable service with a brand that is trusted around the world. With some of the fastest withdrawal processing times of any payment method available, Neteller is becoming the go-to option when it comes to funding online betting sites around the world.
Will I be charged any fees?
There may be small fees charged by Neteller depending on the method you use to fund your Neteller account. Once it has been funded, there will be no charges for making deposits and withdrawals to and from your chosen online betting site, making it a very popular funding option among experienced players and bettors.