Live Dealer Blackjack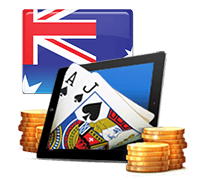 Do you love the thrill of sitting at the blackjack table face-to-face with a croupier skillfully dealing cards, while pokies flash away in the background and girls deliver drinks at the drop of a hat? Do you remember that feeling of landing top cards? The excitement as the croupier went bust and the chips came rolling in? It's a wonderful experience – a real thrill. But we are guessing you don't get to a casino as often as you would like, or maybe you have never been but would love to know what playing a live game feels like. Well, now there is a way to recreate this experience in the comfort of your own home when gambling online. Live blackjack brings together the pleasure of playing the game in a brick and mortar casino with the ease of online gambling. Live dealer blackjack works with the aid of a live stream video cam, a real dealer passes out the cards in a casino, while you watch from home. It doesn't get much better than that! Our live dealer blackjack sites offer:
An unbeatable playing experience with real cards and real casinos, winning real AUS from the comfort of your home
Play against experienced, friendly dealers
Fast, reliable video streaming
Stakes to match any Aussie wallet
Sophisticated software and trusted security
A wide range of AUD deposit options for seamless play
How to Play Live Dealer Blackjack Online
Getting started is simple. Much like any other online gambling game, players need access to a decent Internet connection, as well as their PC or Mac. From here it's a case of choosing the game, linking to the video stream and getting ready to play. Thankfully live dealer blackjack is much like your normal game of blackjack online. First you choose how much money you'd like to bet on your hand. Then the dealer will hand you two cards face up, with the aim of the game being to reach 21 or as close as you can get to it, without going over. To get to this target players can choose to 'Hit' and take more cards or 'Stand' and stick with the initial two cards. Payouts occur when your hand is closer to 21 than that of the dealer. If you are lucky enough to get 21 on your first hand then you have Blackjack, which pays 3/2 of your original bet. The dealer will keep you up to date along the way by announcing the action and informing you if you have won or lost.
Why Live Dealer Blackjack is a Winning Combination
When you're gambling online, live dealer blackjack is played at a natural pace, with the opportunity to talk to the dealer. This is a great bonus. Ask questions about the game, get advice or just have a friendly chat. To do this, look for the chat box to the side of the main game on your screen. The other great thing about having a real dealer is the reassurance it brings that the cards are not fixed. A Random Number Generator (RNG) isn't needed here, you can see the cards being shuffled and dealt. This should help calm the nerves of any online Aussie player who has a fear of being scammed.
Another plus to playing online Live Dealer Blackjack is that the betting limits are often smaller than those found traditionally at the tables in brick and mortar casinos. This can be useful if you're on a budget. But watch out, Live dealer blackjack often carries higher wagers than standard online casino blackjack games.
How to Find the Best Live Dealer Blackjack
Online gambling with Live Dealer Blackjack is incredibly popular right now among Aussie fans. Whether you're playing for small change or big dollars, based in Perth or Brissie, it's easy to get playing. However with so many games on offer, it's hard to know where to start. We know we have been there before – hours lost trying to find the right site with the right game and one that will take Aussie dollars to boot.
Always remember to play safely. It's important to use trusted sites – your banking and personal details are at stake after all! We strongly recommend you only use sites that have been tried-and-tested by the Australian online gambling community as well as having been independently audited by a third-party such as eCOGRA to ensure their software is entirely secure. Stay with the top recommended sites we have listed for you here and you can't go wrong. Live dealer blackjack is the most exciting way to win real Aussie dollars, in a thrilling environment without having to leave the comfort of your own home!
Frequently Asked Questions
How does blackjack work with a live dealer?
Live dealer blackjack is a combination of the ease and accessibility of online play with the sights and sounds of real casino action. Watch a professional dealer lay out the cards live from a remote casino location via digital HD streaming to your computer, and place real money bets in the company of fellow players from around the globe.
Do all casinos in Australia offer it?
While not every casino available to the Australian market offers live dealer options, it is becoming more and more popular in the online gambling world. Our recommended casinos bring live dealer real money action to Australian players, so you can experience the immersive experience of live dealer blackjack from home.
Will I be able to pick it up from standard blackjack?
There is no difference in the rules between live dealer blackjack and the virtual version of the game familiar to online casino users. The only differences are that you are dealing with real people rather than random number generators, but the game play itself is exactly the same as with the animated mode.
How many decks are in play?
Live dealer blackjack generally uses 6 decks of cards, as is standard in brick and mortar casinos. Some pro players recommend implementing card counting techniques for live dealer games, as such an option is not available in virtual versions of the game where the cards are effectively randomized after every single game.
Are there any strategies to learn?
Basic blackjack strategy is a minimum requirement for anybody who is serious about making a few dollars at the blackjack tables – whether virtual or live dealer. Locate a good strategy guide and keep it next to you when you play and you will see a noticeable improvement in your fortunes. More advanced players advocate trying out card counting techniques on the live dealer version of the game to give yourself a further statistical advantage.
Will my smartphone or tablet play the games?
Live dealer blackjack games are available on mobile devices such as smartphones or tablets, so you can play no matter where you are. Just make sure that you've got a strong internet connection and a phone capable of handling the increased bandwidth required to run live dealer games.
Will I get a fair game?
Every site recommended on these pages is regulated and subject to regular independent testing to ensure that games are fair and pay out correctly. Online live dealer casinos are independently monitored by bodies such as eCOGRA to ensure that these games pay out fairly and correctly. You can rest assured that if we recommend an online betting site that you can play safely and securely online.