BONUS
100% up to AU $1750

Betfair: The Main Points
One of the world's largest betting exchanges
Free cash gift when signing up
Great casino, poker room and bingo
Website:
www.betfair.com.au
Overview:
Betfair was launched in 2000, in the UK. For its multi-betting and tote products it acts as bookmaker, although it is primarily a betting exchange. In the year 2003, they were one of the recipients of the Queen's Awards for Enterprise (business's highest award in UK). To expand overseas, Betfair began obtaining licenses offshore, beginning in Malta followed by Tasmania in the year 2005. Owned now by Crown, seasoned gamblers are more targeted by James Packer's gambling business. Other Australian bookmakers differ from Betfair which offer their customers a betting exchange where instead of making online bets against the bookmaker, they make an online bet against other customers. A percentage of each bet that is placed goes to Betfair, which is how they make profit.
Betfair is one of the largest betting exchanges in the world, as well as a site offering players a fantastic online casino experience.
Quick Facts:
Around Since: 2000
Licensed In: Tasmania and Malta
Languages: English, български, Česky, Dansk, Dutch, Ελληνικά, Spanish, Suomi, Italian, Norsk, Polish, Português, Русский, Svenska, Turkish, Chinese and Japanese.
The Good: Can bet both for and against outcomes
The Bad: Not as beginner friendly as a standard bookmaker
Website:
For users new to betting exchanges, Betfair website may be somewhat confusing to them. However, it is a quick learn on understanding the way betting exchanges functions. Compared to other high ranked Australian bookmakers, their website seems slightly clunky and does not have the amount of functions and is not as smooth.
Although they lack these features, it functions quite well and from the homepage it is easily to access upcoming betting markets. Sections for racing and sports have a layout which is familiar but due to Betfair being a betting exchange there are a few differences.
If the customer is knowledgeable and confident enough with placing bets using a betting exchange, Betfair is a great choice unless looking for a betting exchange with many more features.


Betfair Mobile Betting App
Betfair Australia customers have access exchange betting for racing and sport markets in Australia and internationally by the use of a betting mobile app. Their mobile app is easy to use, clean and remarkably fast on both IOS and Android devices. Their customers will be able to access Betfair markets with the use of their mobile app and they also will receive their form guide which is extensive and allows them to trade confidently.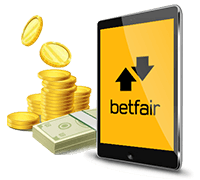 Betfair also has a mobile site which works on all devices enabled with Internet for users that do not wish to download a mobile app.
Users on the go can expect everything on the mobile app that they would from the website. Betfair app is fast and reliable that users are sure to appreciate. This is convenient when wanting to make sport bets at any time day or night wherever they might be.
Sports Betting:
Making online bets on markets in which you choose are easy at Betfair due to them offing more liquidity. Customers can easily master the sports section layout within a few minutes. They also have access to all international and Australian betting markets. Australian customers have a lot of money available for international sports due to Betfair having an extraordinary amount of money because of their betting exchange for Europe.
Horse racing, tennis, and football are the most popular sports available for online sports betting, however, there are many sports covered although they have levels of liquidity that vary. Popular UK events have the best liquidity for this reason.
Overall, compared to other bookmakers, Betfair's sporting selection is greater. All major leagues and sports are catered for and for each fixture there are generally many betting markets.
Horse Racing:
Betfair horse racing section has a display of lay and back markets for every race that is meeting in addition to Australia and international racing markets future markets. Customers are provided with race forms for every race with details as well as information on where the money is going. Some issues with this are there is not a lot of money available sometimes for customers to bet with or against on the exchange making it hard to make an online sport bet.
Live Sports Betting
Live online sports betting is not available to Australians because of Australia's Interactive Gambling Act. In order for Australians to bet live, they must phone in.
Promotions
To bring more customers to their site, Betfair Australia offers promotions. Compared to other bookmakers online, they offer a significantly smaller number of them.
One of these promotions are £30 for Free (All Sports). This is when a customer joins Betfair, if the make their first £10 at odds of 2.0 or higher by way of their sportsbook, they will get a £30 free bet.
Keep in mind with this promotion, Betfair is aiming for their customer to use the sportsbook rather than the betting exchange which is more than likely the reason they signed up. Obviously, this is not shady but it might be confusing as their sportsbook use does bring them more money so it may seem a little sly.
Payment Methods
Betfair offers their customers several payment methods. Methods offered are simple to use and if customers experience any difficulties they can receive help by phone or online. Account balances are updated quickly following a win.
To deposit funds in their account, customers simply need to hit the "deposit" link located in the corner on the top right. A new browser opens up for a deposit window. All options for deposit are presented now. Make your deposit using one of these many options; MasterCard, Visa, Cheque, Bank Transfer, Solo, Maestro, Laser, Electron. Delta, PayPal (UK only), Switch, Neteller, Moneybookers, Western Union, BT Click&Buy, MoneyWorld and MoneyTT.
Withdraw methods are what customers would expect. These include Visa, MasterCard, Bank Transfer, Moneybookers, PayPal, and Neteller.
Customer Service:
Betfair offers their customers searchable and detailed FAQ, where they can learn about almost everything they need to know about how Betfair betting exchange works. If they are unable to find an answer there, there are both phone and email options available. There is a helpful live chat option available 7 days a week from 9am to 7pm AEDT.
Contact Info:
Telephone Betting 24/7
132 BET (132238)
Helpdesk 8am to 10pm AEDT 7 Days Week
1-300-238-324
Email:
[email protected]