BONUS
100% up to AU $1700

7Sultans: A Brief Overview
Well-established and highly trusted casino
Offers over 500 games, including great pokies
Many great bonuses, including a huge welcome bonus
Website:
www.7sultanscasino.com
Many online gamblers equate newer with better, but with online casinos that assumption is no more automatically true than it is for cars, appliances, or businesses in general. The problem, in particular, with a new online casino is that the potential customer has little or no reliable information to go on with regard to the casino's overall trustworthiness. In contrast, an online casino which has been serving the public for a good number of years has both a documented record and a loyal customer base to back up its claims.
Trustworthy and Timely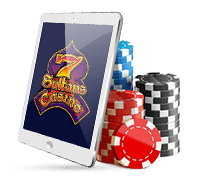 7 Sultans Online Casino opened their doors in 1998, which in the world of online gambling is an eternity, especially when you stop and consider the fact that back then this now multi-billion dollar industry was considerably a risky business endeavor. The fact that this casino has not only remained in business all these years but has maintained its popularity with players all over the world from Europe and Canada to Australia is most impressive. The longevity of 7 Sultans proves that this is no ordinary casino, but one committed to delivering a consistently enjoyable online experience while adhering to the highest standards of safety and fairness.
Another indication that 7 Sultans Casino Australia is a place you can trust is its membership, along with the separately reviewed All Slots, Royal Vegas, and Vegas Palms casinos, in the esteemed Fortune Lounge Group. Players in any of these casinos not only have the assurance that they have chosen a site of the highest quality; they also get to enjoy all the exclusive benefits and privileges associated with the Fortune Lounge. However, as the oldest casino in the group, 7 Sultans deserves special recognition.
Obviously, there is no way that 7 Sultans Casino could keep up with the competition if it were still using 1998 software. But no need to worry about that because this casino uses the most up-to-date state-of-the-art software from Microgaming, a company that year after year is recognised internationally as a leader in its field. Furthermore, 7 Sultans Casino regularly receives Microgaming's newest releases, which added to the existing huge repertoire of games, assure its dedicated players, regardless of tastes and preferences, that they will always be entertained, never bored. Unfortunately 7 Sultans Casino does not accept players from the U.S. or U.K. However, Australians are welcome!
7 Sultans Casino is an excellent example of how a casino does not have to have been created yesterday to be in tune with the times.
Hits
Australian players are welcome!
Operating since 1998
Uses state-of-the-art Microgaming software
Also playable in flash version and on mobile devices
eCogra certified
Over 500 high payout games
Part of the Microgaming progressive jackpot network
Live dealer games, including multi-tabling and "bet behind" features
Secure banking with many options
Play for free option on most games
Generous Welcome Bonus with very fair terms (for pokies)
Excellent loyalty rewards program and lots of special promotions
Member of Fortune Lounge group of casinos with transferrable benefits
24/7 Customer Support
Misses
Mobile platform limited to iOS and Android devices
Welcome Bonus terms and conditions could be presented more clearly
Welcome Bonus focuses on pokies
Alphabetised presentation and short descriptions of each game would be helpful
Software and Games
State of the Art Technology
7 Sultans Casino is an excellent example of how a casino does not have to have been created yesterday to be in tune with the times. Microgaming, the software provider that 7 Sultans Casino Australia has used since its inception, has been at the forefront of the online gambling industry by continually evolving and improving their operation and software. Using the latest advances in digital, mobile and web technology, this casino y has made gaming a priority. You will continually find enhanced software and new, highly entertaining games that appeal to a wide range of players. 7 Sultans Casino has been the beneficiary of these years of experience and expertise.
7 Sultans Casino players get to experience superior graphics, sound effects, and animations. An appealing feature of the casino interface is the ability to customise the sound, speed of play, and other features to suit your own taste. You can also create a list of your own favourite games to help you access them instantly as often as you like.
Getting Started is Easy
Some online casinos make signing up as a new player and accessing the Welcome Bonus unnecessarily complicated, but 7 Sultans Casino makes the process a piece of cake. All it takes are four easy steps, which are clearly outlined for you in a special section of the website labelled "Getting Started." Both a flow chart and video guide are included as well to take you through the entire process and tell you exactly what information you need to have handy (i.e., email address, bank account, etc.) This eliminates being interrupted after you start while you look up the information you don't remember. It is also practically impossible to make a mistake. Here are the four simple steps.
Choose one of three convenient ways to access the games:

Desktop: Downloading the software onto your computer for complete access to all 500+ games.
Browser: The instant play flash version allows you to access most games on any browser with no downloading necessary.

Click on the Create Account tab to register and create an account. Once you do so, you can use this account interchangeably in any of the three ways described above.
Click on Deposit Now and make your first deposit using any of the accepted methods. Then claim your 100% Welcome Bonus.
Pick a game and start playing!
The 7 Sultans Mobile Platform
The 7 Sultans Mobile Casino can be accessed simply by visiting their site from your mobile phone or tablet. If you have also created an account on your computer, you can keep the same account and enter the same user name and password to play on your mobile device. Or, alternatively, if you are brand new to 7 Sultans Casino, you can use a mobile or tablet to set up your account. Also, if you do, according to the information shown on the website, you will be eligible for a Welcome Bonus of up to $1,000 (as opposed to the $500 maximum for new signups online).
The website does not state exactly how many games are available to mobile players. Although the total number is quite limited, among the supported games are those which are highly popular. These include pokies such as Tomb Raider, Thunderstruck, Break da Bank, and Avalon, along with the progressive jackpot games Mega Moolah and Major Millions. In addition to pokies, several other games are offered, including European Roulette Gold, European Blackjack Gold, and Jacks or Better and Aces and Eights Video Poker. You can expect more games to be added to their mobile platform in the very near future.
Since this casino's mobile platform is browser based, no downloading is necessary. While anyone with an iPhone, iPad, or Android phone or tablet (current model) should be able to access the games, the 7 Sultans mobile platform does not support other devices such as Blackberry, Java, and Symbian. Owners of these devices are referred instead to sister mobile casino, Royal Vegas.
Games
Step 4, picking a game, is the only one you might have trouble with, but only because this casino offers a choice of more than 500 games. Helping to make your selection task a little easier, you will find the massive collection organised into the following categories: Online Pokies, Progressives, Table Games (blackjack, roulette, baccarat, table poker, craps, and various other games), Video Poker, and Casual Games and Scratch Cards. These last two categories include such games as keno, bingo, and "Spingo," along with assorted unique games with zany titles like Slam Funk and Turtlely Awesome.
It would have been helpful, given how many games there are, to organise them alphabetically as well as to provide a brief description of each game. However, nearly all of 7 Sultan's games offer the option to practise with play money, if you prefer, as an alternative to betting real money. Should you be undecided about what type or variation of game to play, or you are trying it out for the first time, you can get a feel for it first with play money. As soon as you're confident, you can join the real money action.
Pokies
Pokie players will feel right at home at 7 Sultans Casino because more than half of the games are some type of pokie machine. For your convenience, and to make it a little easier to find the games you like best, they are divided into the following categories:
Fruit slots
Reel slots
Video slots
Bonus slots
Free Spins
Mega Spins
Progressives
The fruit and reel pokies will appeal to players who like simple classic games. However, the video pokies, with their intriguing themes, colourful characters, and bonus rounds are the most popular. You can choose from games with as few as 5 paylines to as many as 100. The video pokies section is where you will find such all time favourites as Hitman, Tomb Raider, Beach Babes, Avalon, Thunderstruck, Loaded, and many more. In fact, 7 Sultans players can take advantage of even more opportunities to win by partaking in weekly Fortune League tournaments.
While there is never a dull moment playing the video pokies, if you want even more action, you will find it in the Mega Spin pokies. These thrilling creations are actually multiple games in one (with a total of 9 ways to win per any given spin). You might need deep pockets to play them, but they give you many more chances to win. Or, whenever you are feeling especially lucky, you can have a go at a super-size jackpot and play one of the progressive machines. Mega Moolah and Major Millions, both of which are included in the multi-casino Microgaming shared jackpot network, have already made some players instant multimillionaires, but each time the mega-size jackpot is won, it is reset and the prize pool starts building up all over again. Could the next mega jackpot winner possibly be you?
Table Games
Variety is the name of the game at 7 Sultans Casino, and that is not only true for pokies, but also for table games. All of the popular casino games you are already familiar with plus variations of these games and others you never heard of before are available. In fact, the game of blackjack alone comes in more than 30 variations! For example, just to name a few of your options, you can try your hand at Vegas Downtown, Vegas Strip, European, or Atlantic City Blackjack. Some of the games are available in a Gold Series version with enhanced features. You can also play the game in single hand or multi-hand versions. There are also several gimmicky forms of blackjack like Spanish 21 and Super Fun 21, but if you're serious about winning, these games, with a higher house edge, are best avoided.
Whatever form of blackjack you select, do yourself a favour and familiarise yourself with the specific rules and basic strategy beforehand. Also, if you haven't played in a while or are trying a different version than what you are accustomed to, taking advantage of this casino's free play option would be an excellent idea. Then, when you feel you have your 21 skills down pat, you will be more than ready to compete in the frequently scheduled online blackjack tournaments of the International Blackjack League.
Casino table poker and roulette can also be played in a wide variety of ways. Since single zero only European and French roulette are offered, we suggest you skip the less player friendly American roulette, which has 2 zero slots; one single and one double. Other possibilities include Premier roulette with a fancier layout and extra betting features. If you're looking for something even more exiting, be sure to check out Roulette Royale which has a progressive jackpot attached to the game.
Live Dealer Games
As exciting and entertaining as all of the above games are, one thing is missing, the interaction with your dealer and the other players. But 7 Sultans Casino has the perfect quick fix: live dealer games! Simply take your virtual seat at one of the live dealer blackjack, roulette, and blackjack games. Thanks to advanced online technology and live video streaming, within minutes, besides having a close up view of every card being dealt or spin of the wheel, you can be having a conversation with the dealer and other players. You can even select a Playboy bunny as your dealer. You will have a tough time finding a land-based casino offering that option.
Here are two more special features that the 7 Sultans live dealer games offer that you are unlikely to find in any land-based casino in Australia (or anywhere).
Blackjack Bet Behind feature

How many times have you sat at a blackjack table enviously watching another player win hand after hand while you were stuck in stiff city? At the 7 Sultans live dealer blackjack table, you won't be able to fight the cards either if that happens, but the Bet Behind feature lets you do something almost as good. Let another player's winning streak be the start of your own, too! The Hot Streak Table located in the top right hand corner of your screen will show you which players have won consecutive hands. While there is no guarantee that the winning streak will continue, it is worth a shot, so go ahead and place a bet in the hot player's Bet Behind box.
Multi-tabling

If you are playing in a land-based casino, it would be extremely difficult, if not impossible to play at more than one table at a time, especially if they are different games, like roulette and blackjack. But, at 7 Sultans live dealer casino, it is not only possible, but easy!


7 Sultan Security and Fair Gaming
Game variety is certainly important in selecting an online casino, but far from the only factor to consider. Nothing is more important than the security and fairness of the site, so it is most reassuring to know that 7 Sultans Casino passes the criteria for security and fair play with flying colours.
For starters, the casino's longevity is already a strong indicator of its trustworthiness. In fact, 7 Sultans was the very first online casino to be accepted into the prestigious Fortune Lounge group, which holds its members to very high standards. 7 Sultans is also fully licensed and regulated by the Malta Gaming Authority.
In addition, all of the games have been independently certified for fairness and randomness by eCogra. The random generators (RNGs) used by 7 Sultans Casino have been found to be fair and random, and the eCogra monthly assessments of the average payouts on the games, which you can confirm on your own via the 7 Sultan website, consistently exceed 96%. The most recently reported average payout for all games combined at the time of writing this casino review stood at 96.76%.
Further proof of the fairness of the site is that, with the exception of the progressive and live dealer games, players are given the option to sample any game for play money before committing to real money. Also, some players might find it easier on their bankroll to claim the Welcome Bonus by making several deposits instead of making the entire qualifying deposit at once. 7 Sultans Casino leaves the choice to you. While advanced encryption technology ensures that every player's financial transactions are fully protected, two special features are also offered to give players an extra sense of security. You can review your complete playing history with the Play-Check feature and review all of your financial transactions with the Cash-Check feature.
Casino Promotions and Player Support
Collect up to AU$500 (or Up to AU$1,000 on mobile devices) with the Welcome Bonus
By now you are probably anxious to know what sort of Welcome Bonus 7 Sultans Casino has in store for you when you join. As you are probably aware, casinos have the right to make changes in these bonuses, and 7 Sultans has in fact made some important changes from its previous offering. The cap on the bonus, at least for online players, has been reduced from AU$1,000 to AU$500, but it is a full 100% match bonus, and players now have the flexibility, which they didn't have before, to decide how many qualifying deposits, from 1 to 5, they would like to make.
Players who have the whole $500 readily available and would like to get the full bonus all at once on day 1 with no waiting can do so. Or, if more convenient, you can spread out your $500 or smaller deposit over two to five instalments and still get a bonus equal to 100% of the total you have deposited. The only catch is that even if you spread out the deposits, all of them must be made in the space of one week. Therefore, if you are a small player, you should probably deposit less than the maximum.
According to the website, mobile players can still get a Welcome Bonus of up to AU$1,000. However, it is not clear whether the same stipulations (i.e. T&C) apply. If you wish to use your mobile device to claim your bonus, you are strongly advised to double check with the customer support beforehand about the terms so there are no surprises.
These are the terms and conditions for the Welcome Bonus for computer players.
100% match of first week deposit(s) up to AU$500
Players can choose how many deposits they wish to make from 1 to 5. The applicable part of the bonus will be given out with each deposit.
Before making a withdrawal, there is a playthrough requirement of 40x the bonus
Only pokies, progressives, and parlour games such as scratch cards count as 100%. Since other games only contribute minimally, this bonus should be regarded as one for pokies only.
All in all, compared to the Welcome Bonuses at many other online casinos, this one is a very good offer; the terms are as reasonable as you will find anywhere. Since pokies are probably high up among your favourite games anyway, playing them to clear the bonus should not be a problem, and you might even win a progressive jackpot in the process. Once the specified playthrough requirements have been met, the bonus, applicable deposit, and any associated winnings are all available for withdrawal.
Loyalty Program
The generous Welcome Bonus is not the only gift coming your way just for joining and making your first deposit. All real money players automatically become members of the Fortune Lounge Loyalty Program and receive 2,500 free loyalty points along with all of the other benefits and privileges of Fortune Lounge membership. The loyalty program has four tiers, so everyone starts at the Silver (entry) level, but with the opportunity to advance to the higher levels, Gold, Platinum, and Diamond, based on play.
All of your real money play in the casino counts towards earning "fortune points," but at different rates depending on the game. Pokies and "unique games" earn points at the fastest rate of one point for every dollar wagered. (See the website for the earning rates for other games.) As soon as 5,000 points or more have been accumulated, they are exchangeable for $5 in cash. At many online casinos, loyalty points are only exchangeable for credits to your account, but this is better because no further play is necessary. Another plus, if you also play at any other Fortune Lounge casinos, is that loyalty points and other benefits are transferable from one Fortune Lounge casino to another.
All players, regardless of level, can enter pokies and blackjack tournaments and participate in weekly and seasonal promotions. However, players at higher levels receive additional rewards. The minimum number of monthly points that must be earned to qualify for and maintain Gold, Platinum, and Diamond status, respectively, are 10,000 points, 25,000 points, and 75,000 points. In return, all higher level players receive all of these exciting extra perks (with the amount increasing for each level): faster earning of loyalty points, a monthly bonus, and a birthday bonus. VIP players receive their own personal account manager, bigger and more frequent bonuses and exclusive invitations.
Fortune Lounge Membership
All 7 Sultans Australia players, large and small alike, can enjoy the special privileges of Fortune Lounge membership, one of which is the opportunity to play in all the pokies (slots) and blackjack tournaments you want. These tournaments offer many opportunities to get your hands on big money competing against other Fortune Lounge casino players like yourself. For example, the International Slot League tournaments offer a new opportunity every week to win a share of more than $40,000 in prizes and casino credits playing some of your favourite games like Thunderstruck and Tomb Raider. You can keep checking your standings on the leaderboard to see if you have a chance. The International Blackjack League also schedules lots of tournaments. Also, all pokies players are eligible to enter a special drawing held once each year, where you could be one of 50 lucky winners of a fabulous week-long Fortune Lounge cruise!
Other Promotions
As mentioned, you don't have to be a high roller to participate in the casino's exciting weekly and seasonal promotions. They are open to all players, but it is your own responsibility to keep checking the website as well as your email inbox frequently so you don't miss out.
In addition, one ongoing promotion you can take advantage of any time is Refer a Friend. There is no limit to the number of people you can refer. For each person you refer who signs up and plays, you receive 50 free credits to your account, and your friend gets an extra 10 credits (on top of the regular Welcome Bonus) as well.
Customer Support
Customer Support is available 24/7 to address any questions and concerns. The service is offered in multiple languages and, for your added convenience, can be accessed in any of the following ways: live chat, phone, email, Skype, I Message, or WhatsApp.
Get Your 7 Sultans Bonus up to AU $1700!