FREE GAMES
No Deposit Needed
MOBILE READY
Play on the Go

A Round-Up of Jackpot City
Available on most mobiles, desktops and tablets
Over 600 different games on offer
Operating since 1998
Website:
www.jackpotcity.com
Regardless of whether you are a newcomer to online gambling or a veteran player, you cannot be too careful when it comes to choosing which place to give your action. For Aussie gamblers that preliminary task might seem overwhelming because there are so many casinos to choose from, but we are here to help you. If you are looking for an online casino that is reputable, trustworthy, and packed with hundreds of games with high payouts, look no further. You might feel like you have just hit the jackpot with our recommendation of Jackpot City.
Experience Counts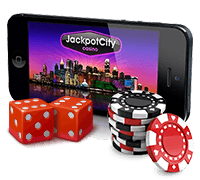 If you are tempted by the big ads of a brand new casino, you might want to give some more thought before you rush to sign up. The new casino might be great, but without an established track record, you really don't know. There is no need to take that risk when there's a casino that has stood the test of time for many years. Longevity is one of the best readily available indicators that the casino you are considering is legitimate and safe and treats its customers fairly. Otherwise, it would not be able to survive amid all the competition and continue to attract and keep a loyal base of customers. Very few online casinos come close to matching the longevity of Jackpot City. This casino was founded back in 1998 way before online gambling became the worldwide phenomenon that it is today.
The word 'city' in the title tells you all you need to know. This casino is buzzing with excitement and activity 24/7.
Hits
Australian players welcome!
Operating since 1998
Powered by state-of-the-art Microgaming software
Also playable in Flash-based and HTML5, no download version
eCogra certified
Over 450 high payout games, including more than 300 pokies
Roulette pays 36-1 on single numbers instead of 35-1.
Live dealer and 3D games
Loyalty rewards and lots of fun promotions
Misses
Site could be more forthcoming about loyalty programme
Numerous promotions can lead to more emails than players might appreciate
Software and Games
Software and Games
Don't let the 1998 start date fool you. The software used to power this casino's games is not a relic left over from 1998, but modern cutting edge software that is as technologically ready for the 21st century as what you might find in the newest online casinos. Just think about it, back in 1998 the internet was so very different than it is now. It must have taken a seriously innovative and forward-thinking team to develop Jackpot City back then, and they haven't stopped pushing the envelope ever since.
Microgaming, a world leader on online casino gambling technology, and provider to some of the world's biggest and best online casinos, is the name behind the state of the art software for all of the Jackpot City games. This means that you can access the full library of over 450 Microgaming titles on Jackpot City. The partnership of two highly experienced companies, both thoroughly versed in the needs of today's online gamblers, is a win-win that should add up to a highly positive experience for anyone signing up to play.
Thanks to the top-of-the-line software provided by Microgaming, there are three ways that you can choose to play:
Downloading the software onto your computer. Downloading is the method of choice to access all of the 450+ Jackpot City games. Another advantage of downloading is that all of the casino's special game-enhancing features, like customised graphics, speed, sound, and background music are readily available. It only takes a few minutes of your time to download, and a small amount of space on your hard drive.
Instant Play/Browser version. You won't have access to every game in the instant play, HTML5 version, but it's not like you will be deprived. You will have access to more than 250 games through instant play. This version of the casino works on any browser, including on Windows and Mac computers, and lets you play even when you are away from home or using a computer that isn't yours.
Mobile play. When Jackpot City first appeared, mobile phones were still those massive bricks that could only be used for basic calls and texting. Of course the casino has evolved alongside our technology, and there is a fantastic version of Jackpot City available as an app for your smartphone or tablet. Unlike some online casinos' mobile apps, which are optimised for Apple iOS devices and only offer a few games, Jackpot City's mobile casino app gives you access to more than 40 games across iPhones, iPads, Android, BlackBerry and Windows smartphones and tablets.
More about the Jackpot City Mobile Platform
We know that Aussies love their smartphones. They are so abundant in our society, we use them for pretty much everything. From checking bank balances on the go to scrolling through social media, reading up on the latest news to messaging with friends, we can do it all from our mobile devices. But we can also entertain ourselves and be social using social casino apps, including Jackpot City's fantastic mobile integration.
Whether you want to play a couple hands of blackjack while waiting for a friend, or relax on the couch at the end of the day with some fantastic pokies, you can do it all through your smartphone. Jackpot City's mobile casino has a wide selection of games. Pokies are heavily represented, as you would expect, and includes some all-time favourites like Tomb Raider, Thunderstruck and Thunderstruck II, Avalon and Gold Factory. Plus there're still classic 3-reel games, blackjack, roulette and other table games. There are even special tournaments for mobile players.
Pokies
If the casino games you like most are pokies, you will feel right at home at Jackpot City. This online casino has more than 300 of these Aussie favourites. You probably weren't aware that so many different varieties of pokies exist, but they do, and Jackpot City offers every type imaginable. It won't be easy choosing from such a vast selection of traditional 3-reel pokies, UK pub style fruit games, thrilling 5-reel video pokies, and Mega Spin pokies (multiple games simultaneously) for the real action lovers.
Playing the likes of Thunderstruck II, Game of Thrones, The Dark Knight, Tomb Raider, Avalon II and many more yields much more than some bonuses and an animated clip from movies and TV shows. Spin those reels and you can experience what happens when gaming comes alive with wilds, scatters, bonus games, free spins and special features.
Roulette
Pokies are by no means the only attraction at Jackpot City. The selection of video poker and table games is also very impressive. However, roulette deserves special mention. If you have played this game a lot elsewhere and someone told you that single inside numbers pay 36-1, you might be thinking that's ridiculous; they pay 35-1. At most casinos, both online and offline, when your lucky number turns up on the wheel, the payout is indeed 35-1, but at Jackpot City, it is 36-1! This seemingly small difference in the rules can make a big difference.
Roulette players, here is another way to improve your odds in this game. Forget about American roulette with the double zero on the wheel and stick to single zero only European and French roulette, both of which are also offered at Jackpot City. Another option, if you want to make this exciting game even more exhilarating, is multi-wheel roulette, which lets you play up to eight separate games simultaneously! You can also speed up the pace of the game.
Blackjack
When you go to a physical casino to play blackjack, whether in Australia or anywhere else, your choice in ways to play the game will be very limited, and the same is true at most online casinos. But Jackpot City offers more than 40 different variations of this popular game. For example, both single deck and multi-deck versions are available, as are multi-hand and high limit blackjack. Just keep in mind that certain rules might vary depending on which variation of the game you are playing. So if you decide to try a variant you haven't played before, improve your chances of winning by familiarising yourself beforehand with any differences in the rules and basic strategy.
Gold Series and Live Dealer Games
Online gambling technology is continually improving. Two of its most amazing and innovative accomplishments to date, both of which you can take advantage of at Jackpot City, are Gold Series games in 3D and live dealer games. The tables look just like those in a physical casino, and as you watch the cards being dealt or wheel being spun, you will almost believe that you are playing in a Las Vegas casino. And just like in a real casino, you can carry on a conversation in real time with the dealer and other players, adding to the social experience.


Security and Fair Play
When choosing an online casino, there are many factors to consider, but few more important than having a reliable indication of the security and fairness of the site. The fact that Jackpot City has been in existence since 1998 is an important factor, but it is by no means the only assurance that as a player you have nothing to worry about.
Jackpot City is owned by Digimedia, Inc. and fully licensed and regulated by the Gaming Authority of Malta. Jackpot City also carries the coveted eCOGRA seal of approval, an honour which is only given to those casinos meeting the highest standards for security, responsible conduct, and fair gaming practices. In addition, eCOGRA has consistently found the random generators used by Jackpot City to be fair and random.
Over and above this, Jackpot City uses top notch encryption across all ways of playing. So whether you're playing on the software downloaded to your computer, instantly through a browser or via the mobile app, you can be sure that your private information and data is safe and secure.
Loyalty Rewards and Other Promotions
Jackpot City loves you, the player. After so many years in business, they know that you have plenty of options of where you want to play, and the fact that you choose Jackpot City is something that they want to reward.
Every time you play, you earn loyalty points, which you can accumulate and spend for extra bonuses and even credits. In addition, depending on your play, you can receive emails with special, individualised offers for midweek and weekend match bonuses. This can be really useful for many players, although some complained that they were actually hearing about awesome bonuses too often. Suppose that's a good problem to have.
Languages and Support
Aussies don't need to worry as Jackpot City is fully available in English. What's also nice, though, is that if you have friends or family from another country, or even if you're just trying to brush up on a second language in preparation for a holiday, you can also play in a huge variety of other languages. With over a dozen languages available, Jackpot City shows just how welcoming it is to all its diverse visitors.
Customer Support is available 24/7 to address any casino-related questions or concerns you might have. The service can be accessed in multiple languages via live chat. Support is also offered via phone and email.
Play Now at Jackpot City Casino!