Popular Pages
Western Australia
Now, with one of the lowest gambling problem rates in the whole of Australia, not having pokies here isn't necessarily a bad thing, but we do believe in everything in moderation. So, don't spit the dummy if you fancy a flutter – we have plenty of alternatives for Western Australia online gambling! They might not be big, silver, loud and bright, but the digital versions of pokies are just as good, and we have sourced the best!
Pokies are banned in pubs and clubs in Western Australia
The Crown Perth Casino is the live casino option with over 2,000 in house games and 24 hour open hours
Gambling online is perfectly legal for Western Australians
Curiosity often gets the best of the cat, and a lottery sometimes just isn't enough of a thrill, and many Western Australians look a little further afield to have a go at gambling. We know the best Western Australia online gambling sites that can be accessed by players like you – all of these will win you real money! That's right, real coin that you can cash in!
The Crown Perth Casino offers Aussies here one of the best live casino experiences, but let's face it, Western Aus is a big place and getting yourself there can be a bit of a drag, especially when it's roasting and your air conditioned front room is much more appealing than a drive across the state…
Western Australia Gambling Regulation - Simplified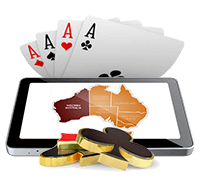 In short – the state doesn't allow pokies in pubs and clubs in Western Australia – and the gambling problem rate reflects this choice well. Western Australians spend less on gambling per capita than any of the other Australian states. Pokies can be played at The Crown Perth Casino. The lottery is a legal form of gambling in Western Oz that has been operating since the 1930's. The lottery not only offers Western Australians the chance to win a big prize, but also funds thousands of community organisations from the money that goes into it, boosting the communities of Western Australia substantially.
However, while you cannot gamble in pubs and clubs, don't worry, you are not stuck with the lottery. Visiting an online casino in Western Australia is perfectly legal and at the time of writing, there is no legal repercussions for gambling online. Outlets on Aussie soil aren't allowed to offer gambling facilities to Aussie residents. Enter overseas outlets specialising to this market, and you have a solution!
The Best Sites For Online Gambling in Western Australia
We're guessing that you want to find some pokies, as well as the usual roulette machines and other table games. Welcome to the specialised sanctuary for Western Australia online gambling – we will show you the best places to go load up your wallets and spin the reels - digitally.
It's not all about the games, it's kind of a package deal, and as experts in our field, we know exactly where to send you so that you get the chance to win the most Wonga, double your dollars and rake in those all-important readies!
Aussies in Western Australia need the sites that offer the best jackies, cash-outs that won't backfire last minute and end up with cash tied up everywhere, and proper licensing in place that allows them to use the sites in the first place. Using offshore outlets is fine – but they need to be licensed to offer Aussies the service.
That's where we come in; we do all the boring stuff so you don't have to, because let's face it, who'd rather simply kick back with a coldie and spin a few pokies, than spend hours researching reputable casinos and agonising over options.
We source the best sites that have 24 hour customer support with English speaking operators, the best bonuses and the best sign up incentives out there. No gimmicks – just games! All sites we source are reputable, traceable and completely reliable.
Safety first
Dying to get stuck in? We don't blame you, but hold on just a sec…nobody learnt how to surf in a day. Security is paramount here and you need to make sure that you are using the right online casinos, so, before you head off into the Western Australia online gambling scene, read this quick checklist!
Go for casinos that accept AUD so that you aren't riddled with conversion fees
Use banking systems that you are familiar with
Get to grips with new banking systems for gambling online
Ensure that the site you are using is SSL protected
Look for sites with developers that you recognise – reputation is everything!