FREE GAMES
No Deposit Needed
MOBILE READY
Play on the Go

Spin Palace's Top Features
Top live dealer games on offer
Beautiful software and website design
Huge selection of games available
Website:
www.spinpalace.org
Online pokies have become such a big hit in Australia, that trying to choose among the hundreds of casinos offering these games has become a formidable task. With each one sounding better than the next, it can be hard to know which places are clearly trustworthy and have legitimate offers and which are of questionable merit. Our expert review staff can help you separate the facts from the hype.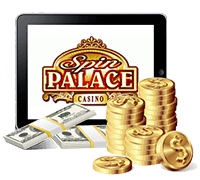 Many players are unsure whether it would be better to play it safe with an established casino or try a new one in the hope it will be even better. While a new casino might be excellent, the problem is that without a proven record, you are taking an unnecessary chance. Sticking with a casino that has been around for many years eliminates that risk. Given how competitive the online casino gambling business is and the increased sophistication of today's players, there is a lot to be said for a casino that can maintain its worldwide popularity year after year. Spin Palace Online Casino has been operating since 2001, so its trustworthiness is without question.
Spin Palace Australia is a member of the select Palace Group, together with several other established online casinos, including Ruby Fortune and Mummy's Gold, which are reviewed separately. Spin Palace is also the winner of multiple online gambling awards. It is licensed by the Malta Gaming Authority and carries the eCOGRA seal of approval. As a premier online casino, Spin Palace continues to attract savvy gamblers from all over the world, many of whom have remained loyal customers over the years. Its 450+ games, including more than 300 pokies, along with one of the best mobile platforms in the business make this casino especially popular with Aussie players.
With over 450 games and 300+ pokies, you can play something new every time you visit Spin Palace.
Hits
Operating since 2001
Powered by state-of-the-art Microgaming software
Also playable in flash version and on all current mobile devices
eCogra certified
Over 450 high payout games, including more than 300 pokies
Live dealer and 3D games
24/7 Customer Support
Misses
More special promotions open to players would be nice.
Software and Games
Software and Games
Perhaps you are asking yourself how an online casino launched in 2001 can have software that is as up-to-date and cutting edge as today's newest casinos. We have a pleasant surprise for you. Spin Palace, from its inception, has utilized the software of none other than Microgaming, one of the world's leading online gambling software providers. Microgaming has consistently been at the forefront of online gambling technology, continually upgrading and improving its products so that participating casinos, like Spin Palace, can pass onto their customers the best possible games and online playing experience.
When Spin Palace was first created, technology and the internet were so very different. There weren't smartphones to play on, and the software was just starting out. Now, you can experience superior graphics, sound quality and animations every time, on all your favourite pokies and casino games. Thanks to the partnership with Microgaming, Spin Palace offers hundreds of games at top-notch quality. The sheer number of games, including 3D and live dealer games, will make you feel like you're visiting a Las Vegas casino. The careful attention to the smallest of details, as well as extra features, makes every game such an entertaining experience that you can't wait to come back for more.
Spin Palace offers its players the freedom and flexibility to choose how you would like to access its games based on individual preferences and what is most convenient. These are your three choices:
Downloading the software onto your computer. It is a quick and easy process that only takes a few minutes and you only need to do it once. This is the ideal way to play as you have access to the full range of customisation options, including graphics and sound quality.
Instant play HTML5 version. No need to download anything, you can use any computer you want because the games are available on any browser. This is best for people who can't download software to the machine they are using.
Mobile casino. Whether you use it on the go or in the comfort of your home, mobile devices are a fantastic way to access Spin Palace games. All the excitement is just the tap of a finger away.
More about the Spin Palace Mobile Platform
Would you expect any less from one of the world's most popular online casinos than a top rated mobile platform? Of course not! Spin Palace Mobile leaves many other casino's mobile platforms that only offer a handful of games and work only on iOS devices in the dust. The Spin Palace mobile betting apps support iPhones, iPads, Android, BlackBerry, and other devices, in other words, virtually any mobile device currently on the market. This means that whether you want to play a couple hands of blackjack while out and about, or relax for the evening with the huge variety of pokies from the comfort of your couch, you can enjoy yourself from your smartphone or tablet. That's what mobile gaming is all about, playing whatever you want, whenever you want, wherever you want.
If you have already established a Spin Palace Australia account on your computer, you can use the same account, user name, and password to access some of the same games on your mobile device. Or, if you prefer, you can set up your account directly on your mobile device. Most importantly, the Spin Palace mobile casino, just like the online version of the casino, is powered entirely by state-of-the-art 100% secure Microgaming software, and all player data is digitally encrypted to ensure complete privacy and security.


Pokies
As the name denotes, Spin Palace has a ton of pokies. If these are your favourite games, and we know Aussie gamblers love them, you have definitely come to the right place. Spin Palace has more than 300 pokies to choose from. That's almost enough to play a different one every day for a year!
You will feel like a kid in a candy store with so many exciting options within your reach, so choosing what to play first won't be easy. Spin Palace has everything from simple classic 3-reel pokies to the most innovative video pokies on the market. For example, Spin Palace is home to such blockbuster games as Tomb Raider, The Lord of the Rings, Hitman, Hellboy, Thunderstruck and Thunderstruck II, Avalon II and even Game of Thrones.
Another reason Spin Palace is a fun place to play is that every month Microgaming introduces brand new games. Many of these games are released to Spin Palace early so its players get a head start in being able to try them out well in advance of the general public. Even if you have a few favourite games that you play regularly, it is fun and exciting to mix up your play and try something new and different. Pokie tournaments offer yet another great opportunity to win.
Other Games
Spin Palace offers more than 450 games, so that leaves plenty of options besides pokies when you are in the mood for a change. Video poker, blackjack, roulette, baccarat, craps, casino table poker, keno, and scratch cards are some of the choices open to you. In other words, even when traveling to a brick and mortar casino is inconvenient, Spin Palace allows you to still enjoy the same kinds of games at home or wherever you are.
In fact, with some of these games, like blackjack and roulette, Spin Palace offers a lot more variety than you will find at any physical casino. Roulette players can choose between American European, and French roulette. However, we recommend that you play the European and French versions only, both of which have just a single zero on the wheel and not an additional double zero. If you feel it helps your game to keep track of which numbers have been hot lately and/or your own lucky number combinations, the Spin Palace software saves that information for you. Spin Palace even offers multi-wheel roulette, where you can increase your chances to win by playing up to eight wheels simultaneously!
Blackjack players are offered an even bigger choice. Spin Palace offers more than 40 different variations of this popular game. Some players might not even be aware that there are so many different variations of blackjack. Before you try a new one, we recommend that you familiarise yourself with the different rules and odds so that you have an idea of what to expect.
As much fun as playing online can be, many players get nostalgic for a physical casino. At most online casinos, the computer games don't look the same and don't feel the same because there is no interaction with the dealer and other players. But Spin Palace solves that problem nicely with its 3D and live dealer games. When you play any of the Gold Series games in 3D or roulette, blackjack, or baccarat with a live dealer and other players, you will almost forget that you are playing online and not in a Las Vegas casino.
Security and Fair Play
The fact that Spin Palace has been operating successfully online since 2001 is in itself an excellent indication of this casino's commitment to provide a safe and fair online gambling environment. However, longevity is not the only assurance you have to go on that Spin Palace is a casino you can trust.
Spin Palace is licensed and regulated by the Malta Gaming Authority and a member of the highly regarded Palace Group of casinos. In addition, Spin Palace has been certified by the independent organization eCOGRA as meeting its extremely high standards for security and fairness. Every month the Spin Palace games are re-evaluated by eCOGRA to make sure that these standards are maintained. Another recent report from eCOGRA indicates that the random generators (RNGs) used at Spin Palace are fair and random.
Languages and Support
Aussies will be happy to know that Spin Palace is fully accessible in English. If, however, you have friends or family based in other countries, or you simply want to learn another language, there are a ton of options available. In fact, Spin Palace is available in over a dozen other languages, making it ideal for meeting people around the globe. Plus, the interface is so intuitive and user-friendly, that even if your language of choice isn't supported, it will be easy enough to understand how to play the games and still have fun.
Customer Support is available to help you 24/7 with any questions or concerns. For your convenience, the service can be accessed via live chat, phone, or email in a choice of 20 languages.
Play Now at Spin Palace Casino!