BONUS
100% up to AU $1600

Facts about Betstar
Founded and based in Australia
Withdraw funds from a cash point using Betstar VISA
100% first deposit bonus for new players
Website:
www.betstar.com.au
Overview:
Bookmaking operation, Betstar (originally known as Eskander's Betstar) has been going strong since 1984, and is based and operated in a territory in Australia. Due to a difficult gaming environment caused by the foreign investment influx, Betstar was sold by Alan Eskander to Ladbrokes plc, the UK gaming giant in April 2014.
Origin for Ladbrokes plc, date all the way to 1886. They own and operate Bookmaker.com.au and Ladbrokes.com.au, which are Australian licensed bookmakers, in addition to Betstar. These are all services which are regulated and licensed by Norfolk Island Gaming Authority.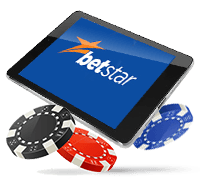 Betstar, like Ladbrokes, offer pre-paid VISA cards. This is a major selling point for Betstar, this is due to the card being linked to betting accounts of members and with only 20-40 seconds after a conclusion of a bet, their winnings are available at ATM's for withdraw. Their customers can withdraw up to $1000 per day in cash with use of the debit card and $2500 per day with EFTPOS transactions. One limitation which customers have is that they are only allowed to withdraw winnings to prevent money laundering. Customers are not allowed to transfer funds into their betting accounts for immediate withdraw.
With the amount of promotions, free bets and bonuses Betstar has to offer, customers should be more than pleased.
Quick Facts:
Around since: 1984
Licensed By: Norfolk Island Gaming Authority
Languages: English
The Good: Optional Pre-paid Visa card linked to betting account
The Bad: There can be fees on dormant accounts

The Website:
Interface structure used for Betstar is the same which is used for Ladbrokes and Bookmaker.com.au, but their color scheme is different. Users will be pleased with how quickly their website loads and betting is make easy and quick with numerous dynamic features.
On left of the interface is a panel for sports navigation which has the amount of active markets shown on rights side of every sport. There is convenient access for markets which are most popular with top left panel Quick links.
Display for markets and odds are intuitive and concise. When users choose a sport, primary sub markets are shown in the left column, and at the top of the main column there is a full list of sub markets. The main column shows odds when a specific fixture is chosen, with the left column showing related sub categories.
Betstar Australia provide their customers with Quickbet that allows them to skip the betting slip. Using this feature allows users to quickly make a bet in a preconfigured amount by doing just three mouse clicks.
The betting slip for Betstar has many features and displayed dynamically on the screens top when selections are added. Users are able to browse other markets without having the betting slip obscure their view by minimizing it to their task bar.
A pleasant feature on the interface is all selections which have promotions, are shown alongside both the betting slip and odd.
Overall, their betting interface, dashboard, and account areas lack any faults. Betstar's website has a very professional, polished look and feel.


Betstar Mobile App
Betstar Mobile App is available is available for any mobile device making it convenient for users to place their bets while on the go. Their mobile gambling app is easy to navigate, and users are also capable of handling their funds right from their mobile device.
Sports Markets
As with the interface structure, Betstar.com.au has the identical sports betting selection as Ladbrokes and Bookmaker.com.au. Popular Australian sports market depth is equal with Australian bookmakers which are the largest. Each Super Rugby fixture has up to 24 markets, each NRL fixture has up to 47 markets, and each AFL fixture has up to 142 markets. American codes which are popular are catered to as well. Of course, football (soccer) is covered heavily. Tennis, golf, cycling, surfing, snooker, motor racing, and boxing are covered. Entertainment, elections, and current affairs is available for betting also. The selection for online sports betting are strong and with competitiveness of odds makes Betstar suitable for casual users to have a stand-alone bookmaker membership.
Live Sports Betting
Live sports online betting is not available due to Australia's Interactive Gambling Act. To make a bet live, customers in Australia must phone in.
Promotions and Free Bets
Betstar Australia provides their customers with many promotions and free bets. With bonuses, for Australian online sports betting they rate with the best. A famous one is for each NBA, NRL, and AFL, match there is $2 Power Lines. Other online sportsbooks offer $1.91 lines. Betstar offer their cash back specials on different sports. For example, in soccer if a match ends 0-0 the customer gets their money back, or in tournaments such as World Cup or Australian Open they are offered early exit offers. If customers refer a friend they will receive free bets.
With the amount of promotions, free bets, and bonuses Betstar has to offer, customers should be more than pleased.
Payment Methods
Betstar has several payment methods available to their customers making it very simple and quick to deposit and withdraw funds. Deposit options and withdraw options are similar with deposit including Visa, MasterCard, BPAY POLi, PayPal, Bank Transfer, Skrill andNeteller. No minimum amount is required for deposit. Withdraw methods include Visa, MasterCard, Bank Transfer, PayPal, Skrill, and Neteller. These withdraw methods vary on time it takes for funds to be received. However, if customers use Betstar pre-paid Visa their winnings are available for withdraw within seconds. There is no transaction fee charged.
Customer Service
Betstar offers users excellent customer service with several ways of contacting them with your question. They have a wide range of departments available for answering customer's questions, or instead they can contact them by using the live chat function available on their website or by email.
Contact Info
24/7 Phone Betting
1-300-238-722
Customer Support
1-300-238-782
Email
[email protected]
Postal
PO Box 759
Port Melbourne
Vic 3207