Popular Pages
Northern Territory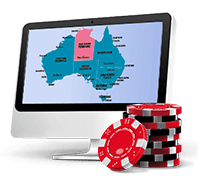 You can soak in the natural beauty surrounding you while having a spin at a few roulette tables online - some people's idea of a perfect day, and we have to agree. We dedicate our time finding the best places to gamble online, this page gives you the low down on live and online gambling in the Northern Territory:
Online gambling is legal for citizens
NT has its own online gambling license for operators
There are two land based casinos
Northern Territory TAB monitors all gaming machines to ensure fairness
Auditors ensure online games are fair
Overseas firms obtain licenses for online gambling from NT
Once home to the world famous casino brand, MGM, Northern Territory residents are no strangers to having a flutter. Now with both SKY CITY in Darwin, and Lasseters Hotel Casino Alice Springs, the rather big shoes of MGM have been more than filled and locals have plenty of opportunity for gambling online.
Online Gambling in the Northern Territory
Another thing that the Northern Territory can boast is the ability to issue its own online gaming licenses to outlets it deems fit. All online gaming systems in the Northern Territory are tested by independent auditors in order to ensure fairness, and they cover the following:
Fairness
Auditability
Security
Operation – must be strictly within the rules
With the Northern Territory having online gambling readily available to those with access to Wi-Fi, you can access the sites from anywhere – from the living room to the bush. If the connection is there, so is the opportunity! We aren't only talking playing for fun – we are talking playing for real cash, genuine money and actual dollars that will land in your account!
Northern Territory Gambling Regulation
What is the 1998 Northern Territory Gaming Control (Internet Gaming) Act? Basically, it allows NT to issue its own online gaming licenses to companies overseas. If you are wondering whether this means you can gamble online - it absolutely does. The Northern Territory Licensing Commission certainly isn't stringent with its licenses and plenty have been given to overseas online casinos who want to offer their services to NT rezzies.
However, NT still falls under the legislation of the rest of Australia, meaning that all online gambling services have to be from offshore providers. No outlets on Australian shores can offer this service to Australians. Don't worry, you're not in trouble for indulging in a spot of online money making, and you can rage on until the small hours if you see fit – just make sure that the site you are using has the proper license from NT. Accessing online gambling sites in NT isn't a prosecutable offence, so spin away and rack up the dollars.
Finding the Best Online Gambling in Northern Territory
With the legislation in place that allows the Northern Territory to hand out licenses to online gambling companies that it approves of, this means one thing to Northern Territory citizens: plenty of choice! Are pokies your thing? Great, we can point you in the direction of many online casinos that offer pokies galore - enough for you to keep spinning until you see those dollar symbols.
Table games, slot machines – you name it, we've found it, and we've got the bonuses to boot. When signing up to an Australian online casino, bonuses are what attract the bucks, so we make sure that we find the ones that suit your requirements best. If you're going to gamble online, chances are you're going to spend good money – so it's only fair that you get a bit back, right?
Plenty of progressive jackpots with absolutely eye-watering, ace pay-outs are at your fingertips, and we constantly check to see what figures are on the rise and just dying to be claimed by one lucky so and so. Our suggestions are fair and based around high-quality service that offers you the best return – because we all want to gamble with the best possible outcome on the other end, right?
Safety first
It may be boring, but it's very necessary. Staying safe when gambling online is something that should be made a priority, and it's not as hard as you might think. We make plenty of checks to ensure we are recommending reputable companies that won't see your money go walk about, but we always reinforce that you should do the same before you part with your dollars.
When depositing cash make sure that you are doing so over a secure server. You should see the padlock symbol flashing up in your browser window. Once you have made that check, you know your details won't fall into the wrong hands. Choose your deposit system wisely and go for the one that you are most familiar with. If you don't see one that you recognise, research the best option that is available and pick the safest one.
If a Northern Territory online gambling site's reputability is coming into question, take a look at the developers who have developed the games on the site – do you recognise them? If so, chances are you've found a good 'un!